02/05/07

Influencing market price is out of the majority of beef producers' reach; however they do have tools to hand to improve their unit's efficiency and ultimately its sustainability in the run up to 2012. Alan Medd is among those who are already implementing them.

Alan Medd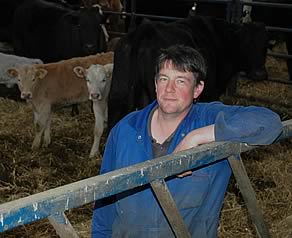 A combination of selected genetics and better nutrition is enabling Alan Medd to maximise his suckler enterprise's potential and subsequent gross output at West Whorley Hill, Winston, near Darlington.
That was reflected in an entry of 17, 11 month old Charolais cross bulls averaging 505 kgs, sold through Barnard Castle mart store ring last month to average £621 and feature within the day's top 5pc, a trend consistent with his previous trade at the centre.
"We pride ourselves in producing quality stock and nowadays we're finding that our calves are flying. We've reintroduced Charolais to use over our 100 cow suckler herd, and more recently started to feed a specific total mixed ration (TMR) mix to weaned seven month old calves through to sale, 12 weeks later."
During that three month housed period Charolais cross bulls are achieving a daily liveweight gain (DLG) of 1.64kg to average 505kgs liveweight at 11 month old point of sale, and same age heifers an average 387kgs liveweight.
Alan says performance has improved by 15pc since swapping a traditional ration for the TMR diet formulated by Keenan and designed to encourage growth potential while feed conversion efficiency (FCE) is at its greatest. It comprises home grown grass silage, whole crop wheat (WCW) and rolled grains plus a balancer blend.
"We use another continental bull over the herd's heifer replacements and their same age calves, compared with the Charolais crosses, have consistently averaged 50kg less," he said. "Since introducing the TMR diet, the differential between these calves is now even greater – in the order of 75kg at 11 months point of sale."
Alan farms in partnership with his father Brian, a 442 acre mainly grassland holding carrying a 100 cow suckler herd, a 250 bull beef finishing enterprise and 600 ewes. His mother, Kathleen manages the office work, while his wife, Alison is responsible for the calf rearing.
A member of the Red Meat Industry Forum's local group, Alan says the venture is offering real positives. "The group has helped to open our eyes, share new ideas and keep our ears to the ground. The farming sector is a fast moving world in which technical and management advances are continually being made, and we've got to be ready to respond," he says.
"For example, 10 years back we went with the fashion and jumped to another continental terminal sire to use over the herd however, since then, the store market has dictated it wants cattle that will grow more quickly to slaughter weight, so we've returned to using Charolais," he said.
"In fact, I don't think there is any other breed that will leave calves that will match Charolais crosses' weight for age, and conformation. They'll never be beaten, and at the end of the day, we're all paid on weight.
"There's also temperament and other factors to be taken into account particularly when we've pared labour to the bone – there's just me and Dad to manage the farm," Alan said.
"Apart from being quiet, our Charolais cross calves are easy to calve, the calves are lively, they're soon up suckling and looking after themselves, and their muscle development is soon very apparent."
He added: "We're aware of the importance of selecting the correct bull - he is after all half the herd. While frame on which to hang the muscle is among our key criteria, we will in future be looking at Estimated Breeding Values to help us evaluate our choice and his potential to leave even higher performance calves."
Introducing the TMR feeding system was a natural progression having witnessed its ability to help exploit growth potential on other beef units, Alan says. Furthermore, he has found the system is also helping to improve efficiency within the unit's Holstein bull finishing enterprise which turns over an annual 200 head reared from two week olds through to 280kg to 300kg deadweight from 12 months.
"The new diet is knocking two to three weeks off time taken through to finishing, and it's subsequently speeding up the cash flow."
The Medds are next planning to review sward management at West Whorley Hill. "We're aware of new grass varieties available including high sugar ones which could to contribute towards better grazing as well as conserved forage.
"We currently finish all our lambs off milk and grass from 16 weeks, and if we could reduce the number of days to finishing then that would be another contributing factor towards improving efficiency and output."
He adds: "Where we go next, I really don't know. We've already pared our fixed costs to the bone – we employ no staff, we are as self sufficient as possible in forage, vet and med is minimal, we have the genetics and we believe they're being exploited cost effectively by our new feeding regime.
"While we'll be keeping our ears to the ground for new technical advances, one move I'm certain the industry would welcome is nominal a rise in finished beef price."

Feeding Whole Milk to Calves can be Costly


Dual Benefits from Automatic Calf Milk Feeding Machine


New Multi-Source Magnesium Improves Efficacy of Cattle Grazing Minerals