New Multi-Source Magnesium Improves Efficacy of Cattle Grazing Minerals
29/03/07
Inclusion of a new multi-source magnesium concept in relevant products in its Maxcare Farm Minerals range improves palatability and availability at a time when effective supplementation is crucial, says Trouw Nutrition.
Maxcare Farm Minerals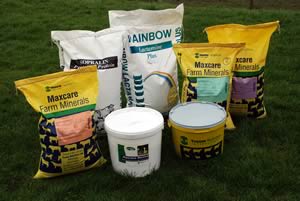 The company's Multi-Mag concept, which involves the blending of three separate magnesium sources to provide an optimum presentation of the mineral, is included in Maxcare Cattle Mag Phos and Maxcare Cattle Mag Plus products that are formulated for use at turnout and beyond.

"As anyone seeking to make best use of grazed grass will know, effective magnesium supplementation is critical in order to avoid potentially catastrophic conditions such as grass staggers, particularly in the spring," says Trouw Nutrition's mineral product manager Richard Slack.

"Some sources of this essential mineral are relatively unpalatable and can affect the uptake by cattle, but we have overcome what have been common problems by blending together different magnesium sources. Through this new concept, we are improving the availability of magnesium, and also ensuring that the equally important vitamins and other minerals included in these products are readily taken up."

Trouw Nutrition first developed the multi-source blending concept for zinc and copper. Zinprex (three sources) and Cuprex 5 (five sources), are included in Maxcare Cattle Mag Phos and Maxcare Cattle Mag Plus to provide improved presentations of these minerals. Both specialist cattle grazing products also now include the organic selenium source Sel-Plex as well as the other essential minerals and vitamins required to supplement grass.

Re-formulation of the full Maxcare Farm Minerals range for 2007 has included adjustment of iodine levels where appropriate to ensure all products comply with recent changes in the permitted levels in animal feeds. Maxcare Cattle Mag Phos and Maxcare Cattle Mag Plus are waterproofed free access minerals available in 25kg packs. The Maxcare Farm Minerals range for cattle includes a number of other specialist formulations for beef and dairy animals.

The Magic Circle - Soil, Forage, Livestock


Improved Lamb Milks From Trouw Nutrition


Organic Selenium Reduces Cell Counts and Mastitis in US Dairy Study