08/05/07

A visit by the Future Farmers of Wales to Crai Organics, where Keri and Julie Davies, produce Shitake Mushrooms, coincided with the first delivery of the gourmet produce to Asda and Tesco.

Crai Organics and their Shitake Mushrooms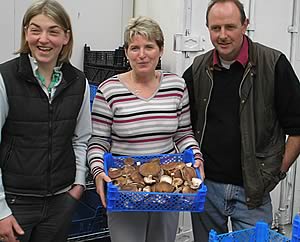 The mushrooms are already selling through Waitrose and the couple have ambitious plans to Further diversify the award winning enterprise at Glwydcaenewydd Farm, Crai, Nr.Sennybridge.
Bedlwyncoch Farm was the first to sign in Wales for the Tir Gofal agri environmental scheme with the rest of the land joining three years later. The Davies's are converting to organic farming this month, which will see the beef and sheep enterprises scaled down.
The group also visited Pwll yr Hwyaid Farm, Talybont on Usk, where 2005 National Grassland winner, Glasnant Morgan, farms with his family. Mr Morgan and son Huw run Pwllyrhwyaid, a mixture of owned and tenanted land. Out of 184 hectares (450 acres), 152 hectares (373 acres) are in a 'Tir Gofal' environmental agreement. The land lies between 150 and 400m above sea level and has an annual rainfall of 1800mm.

Crops, Climate Change and Computers


Wheat Stem Rust Spreads from East Africa


Crop Market Update from Gleadell