17/04/07

Microbiologist Joanna Fyans has joined milk testing company National Milk Laboratories (NML) in its Paisley laboratory, taking on responsibility for Mastitis ID and Bacto Breakdown testing under the Microcheck service.

Joanna Fyans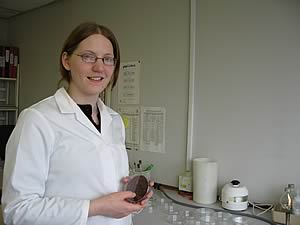 Mastitis ID investigates the mastitis pathogens in individual cow milk samples and the Bacto Breakdown service is used to assess plant and cow hygiene after a high bactoscan result in a bulk milk sample.
Originally from Perth, Joanne graduated with a first class degree in biochemistry and microbiology from the University of Strathclyde, Glasgow. She was awarded a top prize for achieving excellent results in her research projects.

NML has two laboratories, at Wolverhapton and Paisley and carries out more than 85% of Britain's milk quality testing for payment purposes. Both sites have dedicated laboratory facilities for carrying out more detailed disease testing used in NML's Healthcheck and Microcheck services. These facilities are available to vets, producers and milk buyers.

Dairy Event 2007 scheduled for expansion


The Dairy Event builds on success


Sainsbury's milk price statement