25/04/07

One of the premier commercial suckler herds of Limousin cattle in the country is to go on sale next month. The G E Robertson & Co autumn calving herd, comprising 131 autumn calving cows and heifers, and 3 bulls, is being sold by George F. White on the 19th May 2007, at Stamford Farm, Embleton in Northumberland.


Iain & David Robertson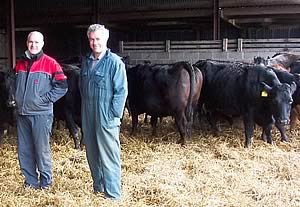 The stock are all quality bred and from pedigree bulls which have been purchased in recent years from renowned herds throughout the UK which includes, Shannas in Aberdeenshire, Johnny Thompson's Hartside Herd, The Mynach Herd in Wales, and Scorborough Herd near Driffield.
Off the Stamford Farm (a 4 year TB parish) the sale comprises:-
The 110 cows/heifers nearly all with autumn born calves at foot, the majority of which are back in calf and due again this October. They are predominantly Limousin X, with approximately 35 Angus X
3 heifers, PD to calf in September/ October
18 in calf Angus X Heifers
3 Bulls
Some of the cows have been held back from the bull with a view to entering the spring calving herd.
This is probably the most exciting cattle sale that George F. White has ever held and one of the largest quality farm livestock sales that will have been seen in the North East for many years. Tom Oates, Partner and Resident Auctioneer for George F. White, is expecting a huge amount of interest: "This is a unique opportunity to purchase absolutely outstanding quality cattle from one of the most renowned herds in the UK. Shipley, Stamford and Embleton Mill Limousins regularly top the suckler calf sales at Wooler and prime stock sales Acklington. A number of the calves being sold have show potential."
The Robertson family have been involved with the Limousin Breed from the very start of its British History. Father Seorus Robertson is seen as the person largely responsible for triggering the Limousin cattle revolution in the UK. In 1969, he contacted the Ministry of Agriculture requesting a permit to import Limousin cattle into the UK. These first Limousin cattle arrived in 1971 and the breed revolution followed over the next 30 years. Today Limousin is the largest numerical beef breed in the UK with a 35% market share.
This current sale arises as a result of restructured farming enterprises which make the autumn herd surplus to the individual needs of Robertson's sons, Iain and David, who have decided to split the partnership to trade independently with individual spring calving herds. Interest is expected from many parts of the country, especially from Scotland and Cumbria where key parts of the herd originated. All of the Limousin X Friesan heifers have come from the Cumbria and Westmorland Area.
This reputation for quality in the Robertson family herd is endorsed by the British Limousin Cattle Society, and when the International Limousin Cattle Congress took place in Carlisle in 2004, Embleton Mill and Stamford were chosen as host farms. Iain Kerr, Chief Executive of the Society, confirms their standing: "This is a commercial herd which is recognised as a benchmark of highest levels of quality of commercial beef production in the UK. During the last thirty or so years, Seorus Robertson and his sons have been prolific buyers of pedigree bulls at the Limousin sales."
The sale takes place at Stamford Farm, at 11.00am on Saturday 19th May. Further details can be found on the George F. White Web site –www.georgefwhite.co.uk

Top Industry Figures to Address Beef Tech 2007 Seminars


NBA's P&O ferry link for pedigree exports already showing its value


Blonde Bulls Bloom at Bristol