25/04/07

Top industry figures – including a leading Italian meat wholesaler – will be among an impressive line-up of speakers taking part in a comprehensive seminar programme at the Royal Northern Agricultural Society's Beef Tech 2007 event next month.


Ian Galloway, chairman of meat processors, Scotbeef Ltd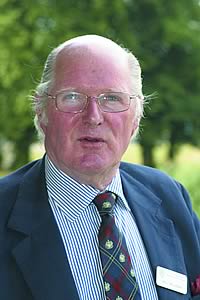 The one-day event, with Clydesdale Bank and Quality Meat Scotland as mainline sponsors, will be held on the 1600-acre farm of Sjirk and Thyna Oosterhof at Savoch, Lonmay, on Thursday, May 31.
More than 100 trade stands, including livestock demonstrations by 10 beef breed societies, have already been booked for the event which is expected to attract several thousand visitors from throughout Scotland and further afield.
The keynote address at the official opening ceremony at 11.30am will be given by Ian Galloway, chairman of meat processors, Scotbeef Ltd, suppliers to Marks and Spencer, Sainsbury's and the Co-op. Scotbeef operate one of the country's most modern abattoirs at Bridge of Allan, Stirling, and recently opened a new £17 million retail packing plant in Glasgow. Mr Galloway is this year's president of the Royal Highland and Agricultural Society of Scotland.
Immediately following the opening ceremony, one of four seminars taking place at hourly intervals throughout the day will be addressed by Giacinto Fusetti, who is president of three Milan-based companies trading in beef and a leading importer of both beef and lamb from the UK. He is a regular visitor to Scotland and attends the Scottish Winter Fair carcase show at Scotbeef's Bridge of Allan plant most years.
He will be joined by Richard Cracknell, managing director of Larry Goodman's ABP Ltd, whose UK meat plants include one of Scotland's largest at Perth, to discuss "Scotch beef – a premium product at home and abroad?" Mr Cracknell was manager of FMC's pig plant at Stirling in the 1970's and is a former president of the Federation of Fresh Meat Wholesalers (now British Meat Federation) and an MLC commissioner. This seminar will be chaired by 'Uel Morton, chief executive of Quality Meat Scotland.
"We have an outstanding line-up of speakers for all the seminars which should provide plenty of interest, information and controversy," said seminars' convener, Bryan Chalmers of Allathan Associates, Turriff, who are sponsors of the seminar programme.
"We are particularly pleased that Mr Fusetti is able to join us now that we have the opportunity again of exporting beef to the rest of Europe, including Italy which was such an important market for Scotland before beef exports were banned in 1996."
The first seminar, commencing at 10.30am, will look at "A healthy future for the beef industry?" and will be addressed by SAC vet, George Caldow, and Pfizer area veterinary manager, Mark Crawshaw, under the chairmanship of RNAS vice-president, David McClelland, who is technical manager with one of the event's key sponsors, animal feed company, Norvite.
The subject of the first afternoon seminar at 1.00pm is "Practical steps to profitable beef production" and the speakers will be SAC's head of beef and sheep services, Iain Riddell, and Robert Chapman, West Cockmuir, Strichen, whose Quarryhead beef enterprise is Quality Meat Scotland's monitor farm in the North-east. This session will be chaired by Iain Clark, the Clydesdale Bank's senior agricultural business partner based at Thainstone Centre, Inverurie.
The final seminar at 2.00pm, chaired by Brian Pack, chief executive of ANM Group Ltd, will tackle the subject of "Producer to retailer – linking the chain". The speakers will be Aberdeen University agricultural graduate, Duncan Sinclair, previously head of economics at MLC and now agricultural manager with the Waitrose supermarket group, and, Iain Mathers, Wardes, Kintore, who has extensive beef farming interests throughout Aberdeenshire and is chairman of both meat wholesalers, Mathers Inverurie Ltd, and the Scottish Council of the National Beef Association.

NBA's P&O ferry link for pedigree exports already showing its value


Blonde Bulls Bloom at Bristol


Precision Finishing Should Deliver Bulls-Eye Prices