02/04/07
Cumbria and the north west gets its first big agri-event this year when auction company Harrison & Hetherington stages an all-industry show in November.
Borderway hosted Beef Expo 2006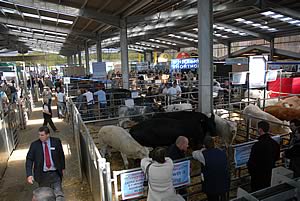 The event, which is in its early stages of planning, is scheduled for Friday November 2 at Borderway, Carlisle, and it will provide an exciting shop window for farmers in the region featuring beef cattle, attractions for dairy cattle and sheep producers as well as machinery, demonstrations and competitions.

"The region is a big livestock producing area and we felt there was a gap in the calendar for a special event of this kind," said Harrison & Hetherington operations director David Pritchard.

"The mart is a focal point for livestock producers in the region and this was proved by the successful National Beef Association's Beef Expo event last June which was attended by around 5,000 people," he added.

Facilities at Borderway and its easy accessibility from junction 43 of the M6 motorway make it an ideal venue for such an event.

H&H's farmstock team has wide experience of conducting events at the mart, now traditionally staging numerous sales and shows on one day to appeal to a wide range of prospective customers – such as major pedigree beef and dairy events

The event will coincide with the annual autumn sale of hill suckled calves at Borderway. There are plans to include a beef cattle show which will include a section for suckled calves. Attractions will also be staged for dairy and sheep farmers.

A key feature is hoped to be activities such as working demonstrations, competitions – including those for young farmers.

"We're looking for major support from machinery suppliers and trade stands and, for the event to be a success, we're also looking for sizeable sponsorship," said Mr Pritchard.

"As planning is still in the early stages we would welcome further suggestions and input from organisations, breed societies and companies to help ensure the event is a success," he added.

Anyone interested in supporting the event or requiring further information can contact David Pritchard on 01228 640924.

Widespread Interest in Borderway's First Winter Agri-Event


Carlisle Spring Horse & Pony Show & Sale


NSA North Sheep 2007: a seminar schedule to inform and inspire