06/02/07

NFU Scotland has commended the Crofting Community Development Scheme (CCDS) over the course of its six-year existence.

©

Scottish Crofting Foundation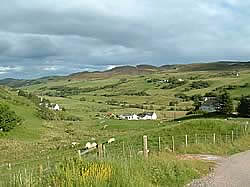 However, the scheme, which involved £1.2million of funding that assisted in the development of crofting community plans involving investment of over £35million in crofting areas, has now come to an end.
NFU Scotland is therefore backing the Scottish Crofting Foundation's call to Ross Finnie, Minister for Environment and Rural Affairs, asking him to ensure that the scheme is replaced with another, equally beneficial scheme, as soon as possible. This will help to ensure that the efforts to bring together all members of the crofting and wider community to their mutual benefit can continue.
Lisa Webb, NFU Scotland Regional Manager, said:
"The CCDS provided very useful knowledge and advice to crofting groups in developing integrated plans for the development of their communities.
"The scheme was successful in bringing people together and contributing to many worthwhile projects in the area, from the building of village halls to footpath signage and the marketing of agricultural produce. NFUS is therefore fully behind the Scottish Crofting Foundation in their call for the scheme to be replaced as soon as possible.
"It is vital that crofting communities continue to be supported in terms of specific funding opportunities for crofting based projects and we continue to push for a replacement to the CCDS."

Crofters Encouraged To Engage With Inquiry


Planning for Succession to a Tenanted Farm


New Access Leaflet For Farmers, Crofters & Growers