Why Farming Matters campaign gains high profile supporters
14/02/07
Famous faces from across the political spectrum, gold medal-winning athletes and leading environmentalists have all shown their support for British agriculture by signing up to the NFU's Why Farming Matters campaign.
Among the first to sign-up was David Miliband, Secretary of State for Environment, Food and Rural Affairs.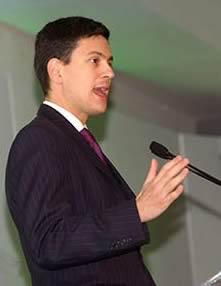 The campaign will run throughout 2007 and highlights the huge contribution British farming makes to the nation, from providing top quality, fresh food to helping maintain the beauty and diversity of our countryside.
Among the first to sign-up was David Miliband, Secretary of State for Environment, Food and Rural Affairs who said: "Our farmers supply us with high quality, safe and nutritious food; they protect and enhance the landscapes we all enjoy; and, by producing bioenergy to replace fossil fuels, farmers can help to reduce the impact of climate change."
Boris Johnson, Conservative MP and journalist signed up with a call to arms for the nations' consumer: "Britain's farmers supply efficiently produced, high quality food and drink at world-leading standards. I try to buy British wherever possible and would urge everyone to do likewise."
Last week Liberal Democrat leader Menzies Campbell became the first party leader to back the Why Farming Matters campaign and said: "Farming is a key part of our economy, identity and heritage…With climate change posing one of the biggest threats of the 21st century, farming has an even bigger role to play. Liberal Democrats believe that farming will continue to be essential to the country as a whole."
Olympic gold medal winners Sally Gunnell and Ed Coode both paid tribute to British farmers for providing them with top quality British produce which helped them during their careers.
Farmers' daughter and Olympic 400m hurdles gold medalist Sally Gunnell also said: "I like to know that the food I feed my family has been produced to the high standards of our own British farms."
Environmentalist Jonathon Porritt paid tribute to the way farmers are adapting to new environmental and welfare standards. He also issued a challenge to others to get involved in the campaign: "…all too often UK citizens (and their politicians!) show little if any interest in the actual business of food production and land management, let alone in farmers' wellbeing and financial security."
The NFU urges its members and the public to support the campaign by signing the petition on www.whyfarmingmatters.co.uk and lobbying their MP to do likewise. Campaign promopacks including posters, leaflets, car stickers and postcards are also available through the website.

NFU Conference to focus on the future


Climate change tackled by new industry-led task force


Rural Organisations Co-operate for Future of Tenanted Sector