NFU Conference to focus on the future
14/02/07
This year's NFU Annual Conference, at the Birmingham Metropole Hotel on February 26 and 27, will have its eyes fixed firmly on the future of farming, in the context of climate change, rapidly rising world demand for foodp and bio-energy and all of the other factors which are coming together to create both threats and opportunities for the coming generation of Britain's farmers and growers.
NFU President Peter Kendall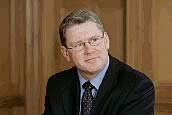 NFU President Peter Kendall will be joined on the platform by a galaxy of star speakers including EU Agriculture Commissioner Marian Fischer Boel, Defra Secretary of State David Miliband, and J Sainsbury Chief Executive Justin King.
And with a record number of young farmers expected to attend the event this year the National Federation of Young Farmers will be joining forces with the NFU to stage a fringe meeting which will address specifically the needs and aspirations of young people coming into the industry, and how to attract more of them.
Peter Kendall said: "This year's conference promises to be an inspirational couple of days, with the focus firmly on what I hope and believe can be a bright future for British farming. To bring that to fruition we need to engage with the young people involved in our industry and encourage them to find new and innovative ways of taking it forward into the 21st century.
"We will be debating new science and technology, the crucial relationship between farming and the environment, how to strengthen our food supply chains so that they add value for both producers and consumers, as well as exploring the growing importance of agriculture and horticulture – why farming matters – in the context of the rapidly changing world of the 21st century..
"These are exciting, challenging and changing times for agriculture and horticulture but I have never been more convinced of the industry's ability to rise to the challenges that face us, whether as food producers, bio-energy producers or stewards of the environment."
Notes:

1. The conference is being held at the Hilton Metropole on Monday February 26 and Tuesday February 27.
2. Speakers at the conference include: Secretary of State of Defra David Miliband, Sainsbury's group chief executive Justin King, Waitrose managing director Steven Esom, Natural England chief executive Dr Helen Phillips, Environment Agency chief executive Baroness Barbara Young and agricultural policy director for Barclays Bank Euryn Jones.
3. NFU board chairmen and chief advisers will be holding a series of breakout sessions featuring the commodities including dairy, livestock, poultry, horticulture, combinable crops and sugar beet, as well as policy for tenants, the CAP health check, farming for energy and the future of levy boards.

Why Farming Matters campaign gains high profile supporters


Climate change tackled by new industry-led task force


NFU Report makes the case for 21st century farming