12/02/07

WHERE exactly does Beefy keep his Quality Standard Mark?

The answer comes under close scrutiny in the latest TV advertisement from the English Beef and Lamb Executive (EBLEX) which is to be screened from Thursday (Feb 15).

Beefy and Lamby TV advertising campaign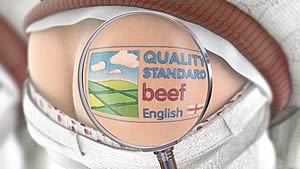 The advertisement, part of EBLEX's two-year £14.2 million beef and lamb promotion campaign, will be shown over a period of four weeks in both its full 30 second version and in a cut-down ten second adaptation.
The campaign will also include online advertising and Press ads running in national newspapers and women's magazines.
The humorous commercial entitled "Doppelganger" also features a surprise guest appearance from another of the Cricketing world's celebrities.
Head of marketing for EBLEX, Andrew Garvey, said: "The advert builds in an amusing way on our series of Beefy and Lamby TV commercials and, I think, is bound to be highly eye-catching.
"I am sure the question of where Beefy keeps his Quality Standard Mark will becoming a real talking point!"

Sizzle a Steak for Your Valentine


EBLEX Publishes Quality Standard Mark Data


Framework For Change Highlights Local Produce