20/02/07

The search is on to find the region's answer to Stella McCartney or Bruce Oldfield, with the launch of Yorkshire Fashion Idol 2007.

2006 Yorkshire Fashion Idol winner Lisa Mitchell receiving her award.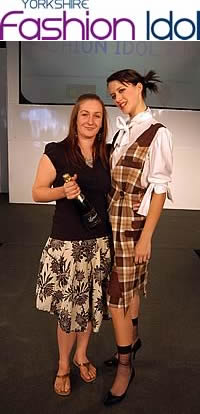 "The best platform you could have to launch your career" is how the inaugural winner, Lisa Mitchell described the competition, and she has urged every young up-and-coming designer to take part.

Launched last year, the competition aims to find a budding Yorkshire fashion designer with flair, style and passion, and whose creativity is just looking for the opportunity to flourish. The finals will be staged at the region's largest country showcase, the Great Yorkshire Show, which takes place at the Great Yorkshire Showground in Harrogate from Tuesday 10 - Thursday 12 July.

Lisa, 21, who finishes her Huddersfield University course in June, will be launching her own label in the ever-popular Skipton Building Society Fashion Pavilion at this year's event.

"Winning Yorkshire Fashion Idol has given me such an incredible opportunity right at the start of my career - most designers have to wait years for something like this," explained Lisa. "To any young designer serious about a career in fashion, I'd say go for it. Even if you don't win, the whole experience is hugely valuable - and great fun!"

She continued: "From September, I will be based at the Huddersfield Textile Centre of Excellence with access to all their mentoring, contacts and even technical equipment. It's the most amazing chance for me and the best possible kick-start for success - some of the designers based there are now selling in places like New York and Tokyo, so there are real prospects."


As well as stunning catwalk shows - including the unveiling of Lisa's graduate collection - the Skipton Building Society Fashion Pavilion will see each of the outfits from the shortlisted Yorkshire Fashion Idol candidates professionally modelled and presented to a panel of judges. The winner will be announced on the final day, Thursday 12 July.

The winner of the title - Yorkshire Fashion Idol 2007 - will not only have their garment professionally made up, but the Huddersfield based Louise Morton Model Agency has offered to provide one of the agency's leading models and a stylist for the first photo shoot.

Bernadette Gledhill, of Louise Morton said: "We had amazing entrants last year and hope that this year sees an even stronger response. Having worked with many up and coming designers through the Yorkshire colleges and universities I know the talent is out there. We have many brilliant International Designers from Yorkshire so to find another one through Yorkshire Fashion Idol would be just fantastic."


In addition the winner will have a place for up to 12 months in the prestigious Textile Centre of Excellence's Design Incubation Unit in Huddersfield, where their new business will be nurtured and promoted, a prize of £500 given by Skipton Building Society and Yorkshire photographer Javan Liam of Harrogate will provide a portfolio of photographs - something every designer needs!

The competition is organised in conjunction with the Textile Centre of Excellence and the Louise Morton Model Agency and is open to all Yorkshire-based designers aged 16 and above.

The brief is simple - to design a garment with commercial potential, and provide production details. Following initial judging the short listed candidates will be interviewed on Monday 8 May at the Textile Centre of Excellence.

To enter the competition, designers should complete an entry form, which can be downloaded from the show's website at www.greatyorkshireshow.co.uk under the Yorkshire fashion Idol option or collected from any branch of Skipton Building Society. (See www.skipton.co.uk for branch details.) Forms can be returned to any Skipton Building Society office or sent to Sally Wall, Great Yorkshire Showground, Harrogate, HG2 8PW, to arrive no later than Friday 30 March 2007.

Designs should have a Yorkshire theme and be suitable for bulk production, if necessary. All entries should show a clear representation of the garment including back, front and side views (if applicable) on no more than two sides of A4. The design must be realistic and easily translated from the design concept to finished product.

DIARY DATES: 2007 Great Yorkshire Show


Showjumping Olympic star Graham Fletcher joins Great Yorkshire Show


Great Yorkshire Show 2006 - Another Successful Year!


Wales Flies the Slow Food Flag