Landini Tractor Dealers Collect Awards
15/01/07
Half a dozen farmers travelled to Oban from farms on the mainland and western Isles last week to parade their tractors on the waterfront. They arrived by road and ferry to help Cameron MacFarlane of Argyll Agricultural Engineers celebrate winning Landini's northern Dealer of the Year title.
Cameron MacFarlane (second left) of Argyll Agricultural Engineers receives the northern Dealer of the Year award from Landini regional manager Martin Ingram in front of customers who drove their tractors to Oban for the occasion.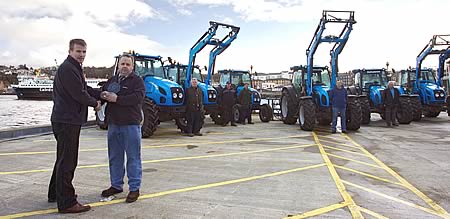 The award, presented by Landini regional manager Martin Ingram for outstanding sales and service performance, comes at the end of Argyll's first year as a Landini franchised dealer.
"It's a great achievement for Cameron MacFarlane and his team to win this award in its first year with Landini and their first year selling new tractors," he said. "I hope it encourages them to do even better in 2007!"
Cameron MacFarlane runs the Oban-based firm with his wife Sine. Their son Cameron and Duncan Aitken are qualified Landini technicians who service and repair tractors and machinery either on-farm or in the new workshops that the company purchased last December.
"We bought the new office and workshop premises to go with the Landini franchise, partly because we wanted to project the right image but also because we were serious about doing the job properly," said Mr MacFarlane. "We now have an excellent workshop on Glenshellach Road, just near the ferry terminal, where we hold a good stock of parts and operate a hydraulic hose replacement call-out service."
It was the Landini tractors' suitability to the local farming that attracted Mr MacFarlane when was looking for his first tractor franchise a little over a year ago.
"There are not many dealers around here so we had the pick of all the tractor manufacturers," he says. "I decided on Landini because I liked the products, I thought they'd be ideal for our farming customers and I liked the company's approach to business."
Those impressions have proved correct: the 60-100hp Powerfarm and more sophisticated 80-100hp Vision tractors, many of them equipped with Landini hydraulic loaders for handling work, have performed well on the beef and sheep hill farms of the area.
"Farmers here don't want anything too complicated; they want a tractor that'll do the job and can be relied upon," said Mr MacFarlane. "The Landini tractors have certainly delivered that with excellent reliability, especially those working in tough Island environments."
Adrian Winnett, UK sales manager, said Argyll Agricultural Engineers' success in winning the northern Dealer of the Year award reflects on an excellent year for Landini in Britain.
"2006 was our best year ever for both wholesale shipments to dealers and retail deliveries to farmers," he said. "Sales were 8.5% up on the previous year, which was itself a record year for us."
This trend demonstrates a growing appreciation of the strengths of the Landini product range, he added, especially the best-selling Powerfarm and Vision models, which offer a wide range of specifications and features making them ideal tractors for livestock farms as well as good work-horse machines for arable units.

McCormick's new dealer in Lancashire


Landini expands field team to support farm machinery dealers and customers


Growing business for new Landini tractor retail dealer


Landini Tractors Powerfarm 'Stockman' 95