Carlisle Pedigree Beltex In-lamb Female Sale
11/12/06
Despite a steady start to the Beltex Sheep Society's in-lamb female sale at Carlisle on Friday, averages for shearling gimmers rose on the year.
David Findlay, of Leyburn, with the Beltex in lamb shearling gimmer which topped the sale at 2,500gns.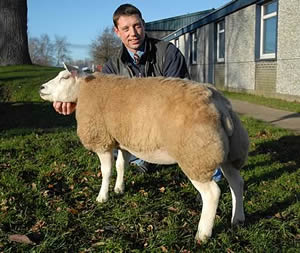 Top price of the day came from David Findlay's Northern Beltex flock, based at Leyburn, North Yorkshire. It was the first time back to Carlisle for Mr Findlay since 1999.
The shearling gimmer, Northern Beltex Just a Cracker, shown twice already this year, winning Reserve Champion on both occasions, sold for 2,500 gns to well known Cumbrian butcher, J. Mulholland, Midtown Farm, Great Orton. This much admired gimmer is in-lamb to Burnside Jethro which Mr Findlay purchased at Carlisle in August for 4,800 gns.
Next up, was another gimmer from the noted Brickrow flock of John Cowan. Proven genetics of Cookstown Hamish were behind Brickrow Jillian, she being an embryo sister to the ram that John sold at Carlisle in August for 5000gns. Scanned in-lamb for 3 to Headlind Ee by Gum, she sold to B & F Staveley, Tewitt Hall Farm, Clapham.
The days Supreme Champion came from Gavin Shanks and Alan Thom's Inveresk flock. A daughter of this years Highland Show Champion, Ulysses, she sold for 1,600gns to Northern Ireland breeder, A. Murray, 67 Vestry Road, Ballygowan.
Averages:
22 Ewes £181.84 (-£82.11)
48 Shearling gimmers £524.13 (+£58.90)
5 Ewe lambs £338.10 (+£67.72)
Judge - B Ryder
Class 1 - Aged Ewe
1st No. 2 - C Barnes
2nd No. 11 - A Thom
3rd No. 28 - Shanks & Thom
4th no. 26 - Shanks & Thom

Class 2 - Shearling Gimmer
1st No. - 67 - Shanks & Thom
2nd No. - 82 - C Barnes
3rd No. - 39 - J Cowan
4th No. - 66 - Shanks & Thom
5th No. - 90 - A Thom
Class 3 - Ewe Lamb
1st No. 110 - J Cowan
2nd No. 109 - J Cowan
3rd No. 111 - A Lecky
4th No. 108 - A Jackson
Overall Champion - No. 67 - Shanks & Thom
Reserve Overall Champion - No 2 - C Barnes

Prime performances at Skipton Christmas shows


Manderlea flock tops again at Skipton Texel females winter show


Hampshire Down Ideal for the Future