01/11/06
The paint has finally dried on a canvas by Dales artist Diana Rosemary Lodge of former Wharfedale Farmers Auction Mart manager Ben Atkinson – five years after it was first commissioned.
Here's looking at you! Ben Atkinson finally gets sight of artist Rosemary Lodge's handiwork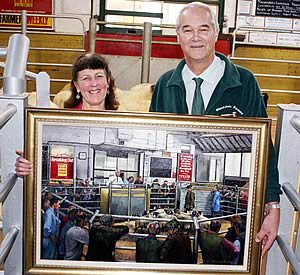 Mind you, the delay wasn't all down to the well-known Burnsall artist, famed for her agricultural-related works and Dales scenes, but a series of misfortunes that befell the farming industry, the subject of the painting and – latterly - the painter herself.

The oil painting of Mr Atkinson on his beloved auctioneer's podium at the Otley mart was the brainchild of his immediate family. They first commissioned it in 2001 with the intention that it should be a permanent reminder of Mr Atkinson's 37 years at the mart.

It was soon after that a whole series of events intervened to prevent Rosemary picking up her brush and making the first strokes.

She takes up the story in her own words. "The first setback was the foot and mouth outbreak. On the very day I planned to make a start on the work - I first needed to study Mr Atkinson selling at the auction mart – the outbreak was officially confirmed and everything came to a sudden stop, so we had to put the painting on hold.

"When matters eventually got back to normal, I went over to the mart to get things moving again, only to discover that Mr Atkinson had suffered a heart attack and would be out of action for a long time. Later, I learned that he had actually retired as auction mart manager.

"I left my name and address at the mart office just in case he was ever called back in an emergency to stand in as auctioneer, although I didn't hold out much hope.

"However, some time later I received a phone call that the usual auctioneer was ill and Mr Atkinson was taking his place. I hurried down to Otley straight away and for two weeks I was able to study him closely selling sheep. I finally made a start on the painting after that.

"All was going well until last October when I badly injured my right wrist – my painting hand! – and it was in pot for four months. When it came off, I could hardly use my hand, so it was this summer before I actually completed the painting. It was one final stroke that was more than welcome!"

The work measures 3ft x 2ft and features many familiar faces Mr Atkinson would have regularly seen at the ringside, including his son Andrew, a prominent sheep dealer.

Rosemary has also produced a number of limited edition prints of the painting, which are available for sale.

Solution To Rural Development Delays Critical


Bill signs off with top honours at Skipton Charollais sale


Blondes sell to a top of 6,000gns at Carlisle