29/11/06

John Deere's 8530 330hp tractor has been chosen from seven finalists as the 2007 'Tractor of the Year'.

John Deere 8530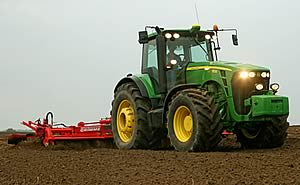 Presented at this month's EIMA trade fair in Bologna, Italy, the award is sponsored by the Italian magazine Trattori in cooperation with other European trade publications from 19 different countries. It is designed to recog­nise the most advanced tractor technology on the market, from the point of view of European reader­s and customers.
The award trophy was handed over to the general manager of John Deere Italiana, David Colquhoun and John Deere Werke Mannheim factory marketing manager, Remi Hanot by a representative of the international 'Tractor of the Year' jury.
This is the fifth major European product award in 12 months for John Deere 8030 Series tractors, following an Agritechnica gold medal in Germany, the Techagro Grand Prix in the Czech Republic, the 2006 'Diesel of the year' in Italy and the FIMA innovation award in Spain.
"In light of fuel price increases and the growing impact of environmental regulations, European juries clearly value the improved fuel economy and environmental performance aspects of our machines," says Graham Thompson, John Deere's European divisional marketing manager for 7030, 8030 and 9020 Series Waterloo tractors.
"These awards are also in line with the results of a Nebraska test which was recently conducted on an 8430 tractor. According to this independent test, the John Deere 8430 holds the world record for lowest specific fuel consumption among row-crop tractors."

New John Deere loaders for 2007


New John Deere 7430 & 7530 tractors from Mannheim


New John Deere 6030 & 7030 Series tractors from Mannheim


New John Deere sprayers provide intelligent solutions