20/10/06

The first leg of the British Limousin Cattle Society's European breed promotion campaign got away to a highly encouraging start at the Polagra Agricultural Fair held in Poznan, Poland from 12th to 15th October.

Pictured L-R are: Ania Mikulska of Top Farms, recent importers
of Limousin heifers from Messrs SM & RJ Priestley's
Brontemoor Herd; Philip Halhead of Norbreck Genetics;
Limousin breeder Raymond Crawford
and Richard Saunders, BLCS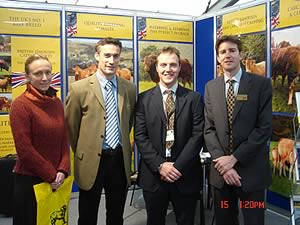 Headed up by Richard Saunders, BLCS Development Manager, the Society's team were met with a tremendous Polish interest in sourcing British Limousin cattle, semen and genetics and also, the provision of integrated IT database solutions.



The complete beef breed qualities of Limousin cattle is already well recognised within the developing Polish beef sector. Commenting, Richard Saunders said, "Limousin is the breed of choice for Polish farmers, with Limousins already accounting for 44% of the country's pedigree herdbook. Potential for live cattle exports to Poland is significant as is the demand for semen. According to the Polish Association of Beef Cattle Breeders and Producers, 80% of all semen sales in Poland at present is Limousin."

For the first time, the British Limousin Cattle Society was represented within the British Pavilion as one of 16 other farming based companies hoping to take advantage of new markets following on from the easing of the restrictions on live animal exports. Cattle, recently exported form the Brontemoor herd of Stephen Priestley were also on display.

Historically a country with a well-established dairy industry, there is now significant demand in Poland from farmers and livestock agents alike to develop a beef sector whilst at the same time seeking to capitalise on EU funding. In particular, and in immediate demand, are 10-12 month old maiden heifers and in-calf heifers in large numbers. The funding structure in place means that the first window of opportunity to be taken runs up to the turn of the year.

Stages two and three of the Society's European promotion campaign are in November at Indagra, Romania 8th-12th and Eurotier, Germany 14th-17th with the Limousin breed looking to build on its positive start and the further opportunities available in EU countries and accession states.

Limousin 'Genetic Package' Heads For Poland


Whinfell Park Limousins Lead The Way to Poland


Limousins again land spoils at Skipton pedigree beef fixture


Limousin Bull Says Olé To Mexico!