25/09/06

The National Beef Association has reported that at least one UK supermarket has cancelled orders for Irish beef to sell in discounted promotions this autumn because it is not confident about the level of farm cover provided by the Beef Quality Assurance Scheme (BQAS) run by Bord Bia in Dublin.

NBA chairman, Duff Burrell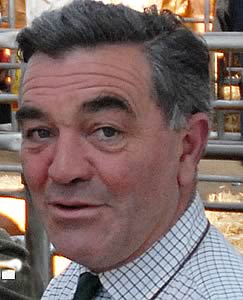 And the NBA expects more multiples to follow suit as the huge gap between the number of EN45011 standard accredited farms registered under BQAS and the volume of farm assured beef required by UK and Continental buyers becomes apparent.

"As soon as they discover the inadequacy of beef assurance cover in the Republic of Ireland they will have to reconsider additional orders for discounted promotions, and in some instances cut back on regular orders too, or else they will expose themselves to the charge that while they insist on full assurance cover from their UK suppliers they are prepared to turn a blind eye to shortfalls that have become obvious elsewhere," explained NBA chairman, Duff Burrell.

"One of the many reasons UK slaughter cattle are already so much dearer than they were at this time last year is because more multiples, at least one of them based on the Continent, have already asked their suppliers to concentrate more buying on the UK because they are confident about the number of farms covered by Assured British Meat (ABM) and its regional equivalents but feel current cover under BQAS in Ireland is too shaky."

NBA research points to perhaps only 6,000 finishing farms covering perhaps ten per cent of production in the Republic of Ireland being BQAS accredited even though around 35 per cent of national production is aimed directly at UK supermarkets alone.

"Bord Bia launched a recruitment drive to pull in more EN45011 accredited farms as soon as it realised that the NBA's interest in the inadequacy of its assurance cover was beginning to worry the multiples," said Mr Burrell.

"However we estimate it will be many months before they can register the 25,000 or so they need to cover just UK supermarkets and in the meantime perhaps as much as 90 per cent of beef produced in the Republic of Ireland may carry no farm assurance credentials at all."

"Bord Bia was given the chance to provide its own assessment of the level of BQAS cover when we wrote to it over a month ago, and again two weeks ago. It has yet to reply to our letters but can still correct us if it feels we are wrong."

"In the meantime supermarkets which insist for many reasons, including due diligence, that the UK beef they sell must be fully assured and sourced under ABM from EN45011 accredited farms, will have to consider whether they can avoid making further cut backs on orders from the Republic of Ireland until they are confident that cover provided by Bord Bia's assurance scheme has reached the required levels," Mr Burrell added.

European Focus On Beef And Lamb


NBA asks Bord Bia for clarification on beef exports to UK


Beef Snapshot Puts Farms On Target