Great Taste Award for Sandyknowe Yogurt Drinks
31/08/06
Alistair Stewart of Sandyknowe Yogurt Drinks, who won the most recent NFU Scotland Innovation Award, has gone on to receive further acknowledgement for both the inventiveness and taste quality of his drinks.
Sandyknowe Heavenly Yogurt Drinks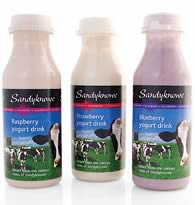 Following his win in the NFUS Innovation Award, Alistair achieved further business success and now distributes his raspberry, strawberry and blueberry flavour yogurt drinks through prestigious outlets such as Waitrose and Peckhams, as well as at the new Royal Bank of Scotland head office near Edinburgh.
Alistair also won the Milk Development Council award for innovation but his most recent prize is for what really counts – the taste of his drinks! His raspberry drink was a particular favourite with the judges and won him the Gold Award in the Scottish section of the Great Taste Awards, which are run by the Guild of Fine Food Retailers.
Alistair, from Smailholm near Kelso, said:
"I am extremely proud to have won each of these awards and am still on cloud nine! I use entirely natural ingredients, with all the milk coming from our very own curious cows at Sandyknowe, and the majority of the fruit coming from other Scottish farms.
"I wanted to develop a product that not only tasted good but that was healthy and retained close links to the farm. It is so important for the farming industry to reach consumers and show them what quality produce they can buy on their doorsteps.
"I have various ideas as to how I can further expand my range of products but my immediate priority is to increase the number of retail outlets I sell through.
"I am very grateful to NFU Scotland for having given me a leg up and helped to set the ball rolling. I would certainly encourage any farmer out there who has a good idea to make the most of it and take it forward. Farming in the 21st century is not an easy occupation and so anything we can do to add value to what we produce can only be a good thing.
"All too often you only read negative stories in the press about farming and so I'm proud to be one of the good news stories. I hope that in future we can read about far more."
The NFU Scotland Excellence Awards cover three different categories; Innovation, Young Achiever, sponsored by NFU Mutual, and Farming & Conservation, sponsored by RSPB Scotland. If you think you have what it takes to enter any of the awards for the current round, please contact Anna Davies on 0131 472 4020. The first deadline falls on 11 September so don't delay!

Rising cattle entries at the Dairy Event


NMR and Vets team up to give health clinic at Dairy Event


Milk Production Report Gives First Insight into Downsizing