29/08/06

Increasing industry acceptance there will be a world deficit in beef in five years time gives the UK industry a not to be missed opportunity to wean itself off outdated, low value, sales strategies triggered by chronic international surpluses – and prepare for a period when increasingly short supplies will generate extreme competition and much higher retail and ex-farm prices.

NBA chairman, Duff Burrell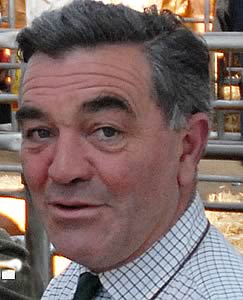 So says the National Beef Association which is pleased with the level of agreement that further lifts in the world economy will bring so many new consumers to the beef eating table that not even massive uplifts in South American production will be able to keep pace with the huge lift in demand.
"The only qualification is that the relentless lift in world living standards must not be interrupted by general political, economic, or military instability," explained NBA chairman, Duff Burrell.
"Otherwise there is more accord than we expected to the proposition that the millions of new Asians, Chinese, and Russians who are expected to join the international beef eating club will present a bigger demand challenge than world production resources can possibly cope with."
"And that huge breeding and other production advances in Brazil will do little more than help it keep pace with the lift in its own internal demand and leave very little overspill to direct at an increasingly hungry world market which will include an even bigger European Union with its own production gaps to fill."
But the NBA believes that the low price-low margin attitudes that currently dominate the UK 's retail and processing sectors put the domestic industry in a poor position to take advantage of this encouraging onward development.
"Discussions with influential beef traders have still to reveal anyone who disagrees with the proposition that international demand could outstrip supply as early as 2010-2012," said Mr Burrell.
"However the largest and most powerful UK processing and retail companies have yet to establish a pro-active position and safeguard their own futures by encouraging the highest possible level of domestic production because current supply strategies, which are based on easily obtained top-ups using imported beef, will very soon be overtaken."
"The NBA's advice is that there are even more compelling arguments than there were before for current strategies, in which extremely meager supply chain margins make it impossible for farmers, slaughterers and retailers to enjoy profit at the same time, to be abandoned before the entire system chokes through financial asphyxiation."
"And for new strategies to be established in which more margin is generated for the chain as a whole through much higher retail prices – which will not be as risky as many still believe them to be because the same world population pressure that will lift the international beef market will raise the value of competing products too."

NBA asks Bord Bia for clarification on beef exports to UK

Keep Back Beef Cattle for Cooler Times

Farmers looking for reassurance from beef labelling inspections