British Goat Society to make debut at the Dairy Event
24/07/06
The British Goat Society will make its debut at the Dairy Event to be staged at Stoneleigh Park, Coventry, on 20 and 21 September, by its organisers the Royal Association of British Dairy Farmers.
British Saanen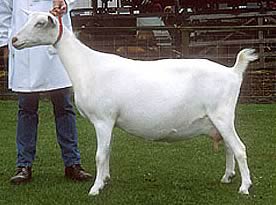 The move reflects the increasing interest in commercial goat farming in response to consumer demand for dairy goat products and also meat.
Farmers will be able to discuss the technical, management, and marketing arrangements for a large scale herd and how farming goats stacks up financially compared to a dairy cow enterprise.
"During the last 10 years, an increasing number of herds with more than 500 goats have been established throughout UK to supply an accelerating demand for goats' milk products and meat, and that interest continues to grow," explains BGS chairman, Richard Wood. "Farmers who milk dairy cows are ideally suited to commercial goat farming operations simply because goats being ruminants, have very similar technical and management requirements."
In addition, overseas visitors to the Dairy Event will have the chance to discuss with the BGS opportunities for breeding stock. "British bred dairy goats are among the highest performers in the world, having been carefully selected for yield performance, as well as conformation," says Mr Wood. "Shipments of live goats, Anglo Nubians, British Saanen and British Toggenberg have recently been made to large scale commercial herds in Spain and Finland, while around 1,000 straws of semen were exported last year to as far a field as Barbados, Trinidad and North America."
RABDF's chief executive, Nick Everington adds: "We are aware that commercial goat farming can achieve margins which can match if not exceed those of dairy cows. We are pleased to welcome the BGS to the event and offer visitors the opportunity to consider goat farming as either a diversification or a brand new enterprise."

Daniel Kawczynski welcomes David to his Dairy Group


David Cameron Joins Dairy Farming Group


Dairy Cattle Sales Bouyant Despite Low Milk Prices


Testing for Johnes Disease