Brazil match will end in penalties at Royal Show
03/07/06
Retailers will be challenged by the NFU to prove their beef sourcing credentials at the Royal Show this year.
About 80% of all cattle in Brazil are based on tropics-friendly Nelore (zebu-type) genetics.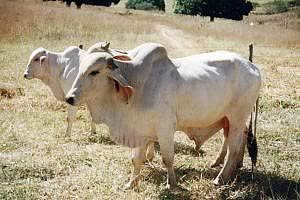 Thomas Binns, NFU livestock board chairman, will be using the show to question the major supermarkets over their policy on imported beef.
This follows a recent report from an inspection of production facilities in Brazil carried out by the EU's Food and Veterinary Organisation (FVO) which identified serious shortcomings in beef, lamb, pigs, poultry and honey production standards.
UK supermarkets have made much of their commitment only to stock imported meat products that conform to UK standards of quality assurance and traceability.
But in the light of this report, which raises serious questions about standards in Brazil, the NFU is looking for guarantees from the supermarkets as to the standards and safeguards that are in place.
The NFU has also written to the EU Commissioner responsible for Health and Consumer Protection, Markos Kyprianou.
The letter asks why the EU has not followed the example of other countries, such as the USA and Australia, and introduced an outright ban on Brazilian beef, especially in view of the risk of importing foot and mouth disease.
Thomas Binns said: "Importing animal products from Brazil poses a threat to the UK's animal health status. We're still very concerned about the shortcomings in the management of Foot and Mouth Disease (FMD) in Brazil and the absence of animal identification systems as reported by the Commission after an official mission to Brazil in September last year.
"We're still seeking assurances from the European Commission about the measures implemented to prevent FMD entering Europe and that fresh beef from Brazil is not placing the EU at an unnecessary risk. In the meantime we believe the Commission should urgently reconsider adopting stronger measures to prevent the import of animal products from Brazil which do not meet EU standards.
"Against this background, it is worrying that some UK supermarkets continue to stock a product which does not adhere to the strict standards of production we expect in the UK. This is why I will be having honest and direct conversations with all British retailers to make sure they understand the implications of stocking Brazilian beef. British consumers should not be able to buy products which do not meet with EU regulations."
Note:
The NFU met with Asda in June to discuss the retailer's stocking of Brazilian beef which did not meet with British standards of farm assurance or traceability. Asda recalled the product after listening to the NFU's concerns.

NFU President forecasts end of cheap food


Farming Unions Press EU for Intervention on Brazilian Beef Imports


Choice is the key in the GM crop debate says NFU