24/05/06
More than £2000 in cash prizes is on offer in stockjudging competitions at the UK's national beef event, Beef Expo 2006, to be held at Borderway Mart, Carlisle, on Friday June 2.
Official judge - Ian Mathers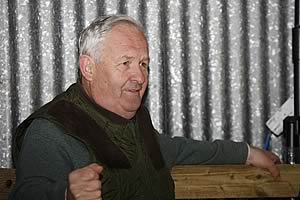 First prize in the senior section (19 – 26 years of age) of the Duke of Northumberland YFC Open Stock Judging Competition for young farmers is £500 donated by the Duke of Nothumberland plus a perpetual trophy, with £200 donated by the British Charolais Cattle Society going to the winner of the junior section (up to 18 years of age). Both winners also receive an all-expenses paid trip to this year's Royal Smithfield Show at Shepton Mallet, courtesy of the Royal Smithfield Club.
In the Yara Open Stockjudging Competition, sponsored by YARA UK Ltd and open to all (except those taking part in the YFC competition), the top prize is £400 and the Yara Perpetual Trophy, with cheques for £300, £200 and £100 for second, third and fourth places.
Competitors in both competitions will be required to judge four classes of Charolais cross steers, Salers cows with Charolais cross calves, Belgian Blue heifers and in-calf Luing heifers. The official judge will be Aberdeenshire farmer and meat wholesaler, Iain Mathers, Wardes, Kintore, chairman of meat company, Mathers (Inverurie) Ltd, who was chairman of Beef Expo 2003 held at Thainstone Centre, Inverurie.
"The stockjudging competitions are generating tremendous interest and we are grateful to both the Duke of Northumberland and Yara for their generous support," said Beef Expo 2006 chairman, Ian Watson, Newlands Farm, Carleton, Carlisle.
Yara marketing services manager, Rosie Carne, said the open competition would allow all visitors to the event to take part in stockjudging, including young farmers.
"Participants will have the opportunity of closely studying different breeds, and their role in modern beef production, and compete for a total of eight prizes in what is a fun competition," said Ms Carne.
Yara is the only truly global fertilizer company in the world and operates in 120 countries. This is the third year the company has been a mainline sponsor of Beef Expo. On their trade stand, Yara will be promoting Top Stock (25.5.5+Na+Se) which is the only compound on the market with added sodium and selenium, formulated to address deficiencies in the herbage.
Entry to both competitions is free but competitors will have to pay for entry into the event (£10 for adults or £5 for members of the National Beef Association and students on production of membership cards). Visitors can enter on the day at the NBA stand and have from 10.00 a.m. to 2.00 p.m. to judge the four classes. Individual members of any YFC club in England, Scotland, Wales or Northern Ireland may enter on production of their membership card.
Mainline sponsors of Beef Expo 2006 are Harrison and Hetherington, Dugdale Nutrition, EBLEX, Intervet, Keenan and Yara.

Day-Long Seminar Programme at Beef Expo 2006


Beef Expo Set To Kick-Start Beef Export Market


Biggest Ever Display Of Beef Cattle Breeds At Beef Expo


Diet Feeder and Straw Chopper Demos at Beef Expo 2006


Leading Cumbrian Beef Farms To Be Visited During Beef Expo


Strong Trade Support For Beef Expo


National Suckled Calf Show At Beef Expo 2006