15/05/06
Shetland ponies make their big debut at a show and sale in Carlisle later this year.
Norman Blackburn's grandson, Tommy, aged five, with pony Muffin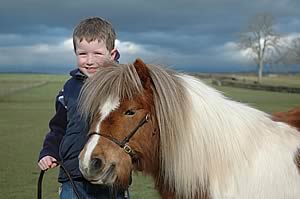 Increasing interest in the hardy native breed both in the north and across the country has led to the demand for the sale which is being conducted in October by Carlisle auctioneers Harrison & Hetherington at Borderway Mart under the auspices of the Shetland Pony Studbook Society.
Among the instigators and organisers of the sale is veteran Shetland pony breeder Norman Blackburn, of Newton Reigny, near Penrith.
While he first established his Newton stud at Church Farm 36 years ago, recently he has witnessed a growing number of breeders in the region, particularly since the foot and mouth epidemic in 2001 among farming people.
"In recent years a lot of farming people have diversified into breeding Shetland ponies and there are a lot of breeders in the north from Crewe up to Edinburgh who are pledging their support to this first sale in Carlisle," said Mr Blackburn.
"I'm convinced it will be a huge success because of the enthusiasm of breeders and because Borderway is such a central and easily accessible venue for the sale. Harrison & Hetherington is giving great backing to the sale. In fact, I could see it becoming one of the premier sales in the country," he added.
Harrison & Hetherington's Alison Millar said: "We're all very excited about this new venture at Harrison & Hetherington and we hope we can add a new dimension to the marketing of Shetland ponies."
Norman Blackburn is a Shetland society council member and because of the interest in the region has been actively involved inn the setting up of the North West and Borders Shetland Pony Group.
He has taken on the role as chairman with long-standing breeder Janet Lowthian, of Gamblesby as secretary and Stephanie Atkinson, of Newbiggin, Temple Sowerby, as treasurer – together they have more than 70 years' experience of Shetland pony breeding and knowledge.
Testament to the popularity of Shetlands in the area was the group's inaugural lunch at the end of January in Eamont Bridge which was attended by 105 people.
This has encouraged the group to go ahead with plans for an open show on June 25 at Newton Rigg Equestrian Centre near Penrith, affiliated to the society as well as a car boot and pony tack sale at Newton Shetland Pony Stud, Newton Reigny, on May 28.
A dinner and dance followed by a presentation of prizewinners on September 2 at the Shepherds Inn, Rosehill, Carlisle, will lead up to the inaugural show and sale at Borderway Mart on Wednesday October 11.
This date has been selected to fit in between established sales at Aberdeen on Monday October 9 and the Reading event the following Wednesday.
Plans for the show and sale are already well advanced. The show, which will begin at 10am will be judged by the President of the Shetland Pony Society Stud Book Anna Stevens.

Lining up will be foals, yearlings and two and three year olds to include mares, stallions and geldings.
Entry will be open to all registered animals whether miniatures or standard ponieswhich stand below 34 inches at maturity or the taller standard types.
"Shetland ponies, which because they are a native breed are easily managed and have their own individual characters, appeal to breeders as well as those who want to compete in showing, driving, long-reigning or such as the Shetland Pony Grand National which stages its finale at Olympia and which is coming to this year's Lowther event near Penrith as a qualifier.
"The Shetland is usually everyone's first pony – I was pony daft as a kid," said Mr Blackburn, "however, they now are appealing to people who have never handled a horse or pony before."
Highlight of Mr Blackburn's career so far as both a judge and an exhibitor of Shetland ponies was lifting five trophies at the prestigious Reading show and sale with a 21 week old miniature filly.
Further details on the Carlisle October sale, schedules and entry forms can be obtained from Norman Blackburn, on 01768 864622, Janet Lowthian 01768 881029, Stephanie Atkinson on 017683 61070 or from Alison Millar of Harrison & Hetherington's pedigree department on 01228 640924.

Carlisle Shetland Pony Show & Sale a Great Success


Lazonby Spring Sheepdog Sale


Scanner Takes New Product Award At Pig And Poultry Fair