11/05/06
Fine weather and a big entry brought hundreds of people to Lazonby Mart on Wednesday May 10th for the second annual spring sale of sheep dogs.
Martin Robinson, of Thrang Cragg, Martindale, Penrith, with his two year old registered bitch Lizzy, which made the highest price through the ring of 1,250gns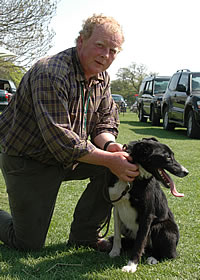 Auctioneers Harrison & Hetherington were so pleased with the success of last year's inaugural sale that they staged another – which attracted more dogs with an entry of 44 working and unbroken dogs and puppies – as well as a higher top price on the day of 1,650gns.
Now H&H plans to further build on the reputation of the venue with its large, flat field, which is ideal for owners to run their dogs with another sale in August.
Highest price during the auction which attracted dogs from England, Scotland, Ireland, Wales and the Isle of Man was for a two year old registered bitch owned by Martin Robinson, of Thrang Crag, Martindale, Penrith.
Lizzy sold for 1,250gns to Mike Boustead, of Newbiggin-on-Lune.
However it was the two year old dog, Cap, from Alastair Lyttle, of Co Donegal, Ireland which, although it was withdrawn unsold from the bidding, was later sold for the top price of 1,650gns to Tony Temple, of Egremont. It had recently won an Irish nursery sheep dog trial.
The same applied to Flash, a two year old registered bitch from Mr G Peugniez, of Kirtlebridge, which sold for 1,600gns after the sale. She sold to Mr EF Burnett, Kippen, Stirling.
Derek Scrimegeour, of Threlkeld sold Tess, a two year old registered bitch, for 1,100gns. Purchaser was Michael Metcalf, of Kirkby Thore.
Last year the top price was 1,500gns for an 18 month old registered dog which had been placed in nursery trials.
Averages for this spring's sale are up by £15 for unbroken dogs at £125 and an increase of £21 for working dogs at £773.
"There were plenty of bids from the huge crowd at the sale. We also had a lot of good comments on the situation for the sale which allows owners to run working dogs in a good sized field for prospective purchasers to see them," said auctioneer Ted Ogden, who is based at H&H's Kirkby Stephen Mart which will be taking entries for the next sale.
"An auction gives buyers a choice and it sets market values. We hope to further build on this success as one of the most northerly sheep dog sales in England with the new fixture in August.
"Spring is an ideal time to hold a sale. As expected on Wednesday, experienced working dogs brought the most money, but there was a lot of interest in unbroken dogs as well."
Mule gimmer hoggs were provided for the dogs to run by Tom Bowman, of Garth Folds, Lazonby.

Countdown begins to English National Sheepdog Trials 2006


Educational Day Out For Primary School Pupils at Scotsheep 2006


Farm trainee scheme for a Rural Future