21/03/06
A new cover to protect bales against the elements and also ensure good storage ventilation is now available from Volac International.
Volac Topfleece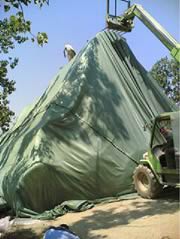 Called Volac Topfleece, it is made of endless non-woven green polypropylene. Volac Topfleece, secured with Topbag silo bags, protects stacks of straw and hay against the elements and ensures the stack is well ventilated.
The protective cover is permeable to air, water repellent, tear resistant and considerably less sensitive to wind than films or canvases. This results in straw and hay quality being retained throughout the winter. Volac Topfleece is also UV stabilised to give it a product life of a minimum of five years.
"We are very pleased to be able to announce this excellent addition to our 'Top' range of quality forage products." says Volac International's, Richard Allum, "With straw reaching £50/t this season big bales are a major, yet very necessary, investment for many livestock farmers and therefore efforts must be made to minimise losses. Volac Topfleece will protect against rain, fog and condensation, enabling quality hay and straw to be retained throughout the winter months."
Topfleece is available in the following two sizes: 9.8m x 12.5m sufficient to cover 54 bales, and 12m x 25m to cover 108 bales. Other sizes are available on request. For further details contact Volac International on Freephone 0800 919 808.

Defra to develop farm plastics scheme


Inoculant treated big bale silage achieves highest quality forage


New Outlook Report Predicts Major agrochemical Price Pressures


Latest Ultra Early Variety Extends Maize Growing Options`


New Environmental Scheme Seeding Guidelines