24/03/06

An increasing number of Cumbrian dairy farmers are taking a leaf out of their counterpart's books in Germany, where 60pc of replacement heifers are reared on computerised calf feeding systems.

Michael Cannon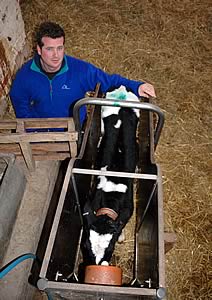 Among them is Eden Valley producer, Michael Cannon, who is appreciating their key benefits - tangible labour savings and higher early calf performance combined with complete reliability.
Swapping buckets for a computerised calf feeding system has brought labour savings of more than £6,000 a year at Low Abbey Farm, Kirby Thore where the Cannon family, Michael and his parents, David and Margaret took the opportunity, while restocking, to double herd size to 200 Holstein cows.
"The system, which has continually proved itself over the last four years, has taken the pressure off one of the most important skilled jobs on this farm. Calf management during those first few weeks of life is critical to overall lifetime performance," he said.
"Apart from the massive time saving, it has enabled me to take total control of each calf's feed regime, and subsequently rear a quality replacement heifer which achieves our target of calving at two years and is scheduled to go on to average 9,000 litres over a minimum four lactations," he explains.
"In fact we believe the system is the nearest to rearing a calf naturally on its dam. The calves seem much more content being able to feed little and often and live in a group. Nutritional scours have virtually been eliminated along with growth checks at weaning and the system is more welfare friendly.
"Added together, these benefits are visible in terms of calf growth rate and general healthy appearance, and the quiet temperament tends to remain with them to adulthood."
Crunch time came for the Cannons when they restocked their 350 acre holding back in 2002 with two all year round calving herds, one pedigree and the other commercial. Michael's sister, Jill, who used to rear the entire crop of calves born at Low Abbey, had decided on a career change away from the farm. They were also one labour unit short.
"We were bucket feeding up to 40 calves, a job which took three hours each day and was fraught with human error - milk could be mixed at different temperatures, rates and times of day. Furthermore, the calves tended to guzzle and go on to suffer from rumen disorders".
Michael became convinced about investing in Volac's U40 feed station after visiting a neighbour who had successfully tried and tested the system. He finally committed after being made aware that the computerised system was offered with a guaranteed back up service from trained dairy engineers, supplied by Hadrian Farm Services.
"Since then, my time spent with the calves has been reduced to 20 minutes a day spent visually appraising them, replenishing the feeder with milk replacer and checking through the computer programme for any non-drinkers," he said.
The U40 records volumes consumed by individual calves and their drinking speed, which highlights any potential problems up to 24 hours before they would usually be seen physically, enabling Michael to take preventative measures if necessary. "The system is a great management tool, however, it is not a replacement for good stockmanship," he emphasizes.
Low Abbey calves are individually penned for their first five days and trained to drink colostrum from a teat. They are then fitted with a transponder on a collar and introduced to a group of up to 20 loose housed calves and the U40 feed station. The next 24 days the computer is programmed to allow each calf to receive milk replacer on a rising curve to six litres per day, after which that volume is maintained through to 42 days when it is gradually reduced to weaning at 52 days.
Michael feeds Volac's Blossom Milk Replacer which, at 13.5p/l, he says proves to be cost effective. Apart from fresh water and straw, they have access from six days of age to an 18pc CP starter feed. "The youngest calves tend to demonstrate strong mimicking behaviour when it comes to starting on solid feed, and by weaning they are eating up to 2kgs a head per day."
He adds: "Despite the initial outlay, the system has more than paid for itself within the first two years, an investment we rate very highly in return for the improvement in our unit's overall efficiency."
All livestock farmers will have the opportunity to investigate computerised calf feeding systems for themselves at the following roadshows organised by Hadrian Farm Services: March 22, Borderway Mart, Carlisle; March 24, Mitchells Auction Mart, Cockermouth; March 27, Penrith Farmers' Auction Mart, Penrith; March 28, Lockerbie Mart; March 29, Borderway Mart, Carlisle.

Darshams Kit Kat Sets Simmental Record


Sticking with the Simmental


Charolais Bull establishes new Perth 55,000gns sale record