22/03/06

United Auctions in conjunction with Newark Livestock Market conducted the dispersal sale of the Darshams herds of Pedigree Simmental, Charolais, Aberdeen Angus and Limousins at Newark Livestock Market. The Darshams herds were established by the Clements family in 1989 and have enjoyed outstanding success in both the show and sale ring. The sale attracted a huge crowd of buyers from all over the UK and a highly satisfactory trade resulted.

Darshams Kit Kat - 18,000gns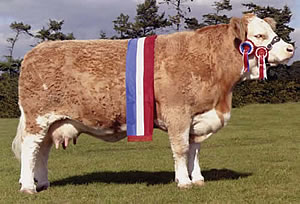 A record price for a Simmental female was established when Darshams Kit Kat the much admired winner of five Royal championships over the last two years made 18,000 gns. Kit Kat, a 1999 born cow was sired by Sterling Flint and out of the foundation cow Revelex Desire 5th was purchased by Mr C Ireland, Abbey Barns, Ickleton.
A further breed record was established when Darshams Real Treasure an April 2004 bulling heifer sold for 13,000 gns. Sired by Salisbury Challenger, this very promising show heifer was purchased by Minsten Pedigree Herds. Codicote. Mr Webster, Whittakers Barn, Skipton purchased Darshams Parasol for 12,000 gns. This heifer boasted an excellent pedigree being a full sister to Darsham Kit Kat. Mr J Peters, Durley Hall Farm, Durley purchased Darsham Loleta for 10,000 gns. A daughter of Sterling Flint, this cow was first prize as a two year old at the Royal Show and sold with a heifer calf at foot. Mr Horrell, Pode Hole Farm, Peterborough who is well known for breeding Beef Shorthorns purchased several animals including Darsham Rebecca a daughter of Sterling Flint for 7200 gns. The same buyer went to 4200 gns for Darshams Slinky, a 2005 born heifer sired by Darshams Haddon. A further two Simmental heifers sold for 5000 gns, Mr G Smith (Jnr) of the well known Drumsleed Herd purchased a daughter of Corrick Kentucky Kid while Strathisla Farms, Meigle purchased a daughter of Darshams Haddon.
The Charolais section attracted a top price of 10,000 gns for Mountjoy Rhapsody. This Doonally New sired cow has had great success in the show ring including being Supreme champion at Fintona. The successful purchaser of this lot was Mr John G Rix, Colchester. Darshams Sacha who was Supreme Champion at the Great Yorkshire show sold for 8000 gns to Messrs J R & V A Webb, Rushfield House, Billesdon. The same purchaser secured Darshams Virtue for 7000 gns and Darshams Sweetheart who sold with a heifer calf at foot for 4000 gns. Darshams Vivacious, a daughter of Seawell Offshore sold for 6000 gns. This powerful heifer boasted an EBV of CH33 sold to the Sportsmans Herd of Messrs Boden & Davies, Nr Stockport. Mr A Ivory, Meigle purchased a daughter of Moyness Rendezvous for 5000 gns. Mr E Evans, Monfa, Wales secured Darshams Utterly an incalf heifer for 4100 gns.
Aberdeen Angus cattle topped 5000 gns for Shimpling Edwina Y140, she sold to Mr J Porter, Northern Ireland to join his Old Glenort Herd. Mr D C Moss purchased Shimpling Elegant C250 a daughter of Dalrene Cruz 11F, she sold with a heifer calf at foot for 2200 gns. A daughter of Blelack Black Beret A241, sold for 1800 gns to C Fletcher, Cumbria.
Top price in the limousin section was 1050 gns for Fodderletter Ureka, this Cockleshell Olympus daughter sold with a bull calf at foot to Furze Contractors, Horsington. Commercial cattle sold to £850 for a cow and bull calf.
Averages:-
SIMMENTAL
16 Cows with calves at foot: £2538
21 Cows (in calf): £2368
8 In calf Heifers: £4266
9 Maiden Heifers: £3687
7 Heifer calves: £1748
12 Bull calves: £1325
6 Bulls: £1628
79 lots averaged: £2495
CHAROLAIS
6 Cows with calves at foot: £1978
19 Cows in calf: £2250
11 In calf heifers: £1747
12 Maiden Heifers: £2538
11 Heifer calves: £1182
5 Bull calves: £875
3 Bulls: £2520
67 lots averaged: £1940
ABERDEEN ANGUS:
4 Cows in calf: £2035
8 Cows with calves at foot: £1188
2 Heifer calves: £1208
2 Bull calves: £1128

Sticking with the Simmental


Charolais Bull establishes new Perth 55,000gns sale record


Perth Charolais bulls meet a flying trade