11/03/06

Shapfell Vimto - 3800gns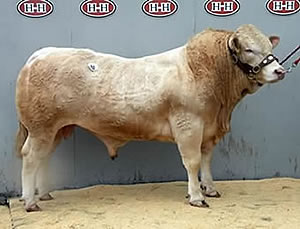 Mike Harrison of Sleddale Hall, Shap secured the top price of 3,800gns for his home bred junior bull Shapfell Vimto at the Blonde Society first official spring sale at Carlisle on Friday 10th March.
Vimto, an October 2004 born son of Megray Senator and out of a Stocksfield bred mother, had earlier in the day won his class and the reserve junior male championship award at the pre-sale judging. He now joins the Gala herd of JW Frame at Wiston, Biggar.
Close behind at 3,700gns was Quicks Vincent consigned by AR Quick & Ptrs of Crediton, Devon. Sired by Loosebeare Robert and bred from a Conington Indigo daughter, Vincent was sold to Mark Wheeler of Stonehouse, Glos.
The senior and overall male champion of the show was Hallfield Vinny from Peter Weightman & Son from Peterlee, Co.Durham, which sold for 3,200gns. A March 2003 born son of Ballygowan Noble and out of Hallfield Pippa a daughter of the imported sire Van, Vinny was knocked down to a joint purchase from WH Davison & Sons of Lough Green, Hexham and TW Dinning of Watch Currock, Hexham.
Also selling at 3,200gns was the junior and reserve overall male champion, a young bull consigned by Hillhead Blondes from Ballynahinch, Co.Down, N.Ireland. Hillhead Valmet, a July 2004 born son of the herds imported stock bull Palace, was sold to J Craig of Londonderry, N.Ireland.
Reaching the 3,000gn mark was newcomer, Gerard Stranney of Downpatrick, Co.Down, N.Ireland with his sole entry Seaview Volcano. The 21 month old son of Ashtonlodge Tyson, was successfully purchased by WH Wright of Chesterfield, Derbyshire.
Leading the elite female section was the reserve champion, Doncombe Vienetta, a junior maiden heifer offered by David Knight of Coombe Cottage, Bristol. A daughter of the noted Druk Lance sire and out of the Aveton Monet bred mother, Vienetta was sold to Miss T Allison to join her Thornage Herd based at Holt, Norfolk.
Averages -
6 senior bulls £2,432.50
15 junior bulls £2,520.00
21 bulls £2,495.00 (plus £224.82)
7 females £1,432.50.

Haltcliffe Limousin Bull sells for 100,000gns at Carlisle


13,000gns Jencralodge Heifer leads lively Limousin Cattle Sale


Local breeders scoop leading prices at Carlisle Limousin Sale