16/10/05

Haltcliffe Volvo - 14,000gns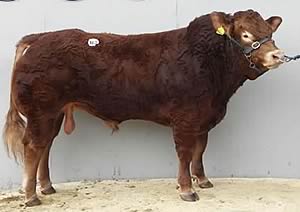 Local breeders Matt and Craig Ridley from the Haltcliffe herd lifted the leading price tag of 14,000gns with their home bred bull Haltcliffe Volvo. A March 2004 born son of their imported stock bull Sympa and bred from a Marquis daughter, he was sold to Mr F Ward of Rogerley hall Farm, Bishop Auckland.

Close behind were three entries selling for 13,000gns. The first went to the events supreme champion Sarkley Volcanic shown by Andrew Ewing of Drumbretton Farm, Annan. Volcanic already carries a show record behind from winning the Junior Male Championship and Reserve Overall Male Champion at this years Royal Highland Show. He sold was sold jointly to Grange Quarry Ltd of Tundergarth Mains, Lockerbie and Robert Dodd of Kirtle View, near Lockerbie.

Also at 13,000gns was the second entry from the Haltcliffe herd for Matt and Craig Ridley. Haltcliffe Vanistelrooy, another Sympa son and bred from a Broadmeadows Cannon mother, sold with a beef value of LM37 to WM Reed & Sons of West Biggins, Bishop Auckland.

Regular Scottish exhibitors to Carlisle, Ron and Aileen Cruickshank of the Kype herd based at Lanarkshire saw their bull also sell for 13,000gns. Kype Vandamme, a Cloughhead Lord sired bull, attracted much interest and was finally sold to RM Adam & Son of the Newhouse herd based at Forfar.

Tunnelby Cow Tops Sparkling Limousin Sale at 10,500gns