06/03/06
Peter Kendall has been elected President of the National Farmers Union of England and Wales.
Peter Kendall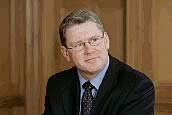 The result was announced following a vote of council delegates at the NFU Annual Conference in Birmingham.
Following the announcement Mr Kendall said: "Farming is at a pivotal stage in its development, it needs a strong and clear leadership. Representing all sections of a united industry is vital. I am looking forward to the challenge ahead."
NFU Cumbrian County Chairman, Trevor Wilson, is one of the delegates who had a vote. After the result, he said: "Peter has picked up the gauntlet and I hope that he takes the NFU forward but also keeps us united.
"He is an extremely dynamic man who is passionate about taking agriculture into a new and exciting era."
Also voting on behalf of Cumbrian members was NFU Council Delegate, Peter Allen, who reflected on a successful last two years for the NFU under the leadership of Mr Bennett.
"Tim has done a great job and laid the sound foundations for Peter Kendall to build upon," said Mr Allen.
"The NFU is in a far more democratic state now than it ever has been and now we must move forward and make it even better at representing its grassroots members."
Mr Kendall farms 620 hectares of combinable crops in East Bedfordshire, in partnership with his brother Richard. He replaces incumbent Tim Bennett who served as President for two years.
Meurig Raymond was elected Deputy President, he has held the post of vice president for the past two years. Mr Raymond, 53, farms 1,100 hectares in Pembrokeshire in partnership with his twin brother. They have 600 dairy cows, with 300 followers. They also farm beef cattle and 2,500 store lambs for fattening. There are a further 600 hectares of combinable crops and 60 hectares of potatoes.
Paul Temple was elected Vice President. Mr Temple, 44, farms 380 hectares in Yorkshire with a mixture of combinable crops, 500 head of cattle and vining peas.
Outgoing President Tim Bennett wished the new office holder team every success. He stressed that the NFU is the only organisation capable of representing British farming and the need for all the different sectors and interests in farming to be united behind the new office holders.

New Cumbrian County Chairman For NFU


Young Cumbrian farmers to quiz NFU president


Rural Payments Agency 'no confidence' vote