19/01/06
A DOZEN young farmers, representing all aspects of farming in Cumbria, will get to question the NFU President Tim Bennett at a special breakfast meeting organised by prospective NFU Cumbrian Deputy County Chairman Russell Bowman.
NFU President Tim Bennett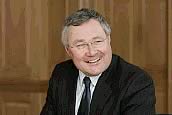 Problems and queries regarding Cumbrian hill farming, the dairy and livestock sectors as well as issues such as when their Single Farm Payments will arrive in their bank accounts, will be put to Mr Bennett.
The meeting will take place at 8.30am at the North Lakes Gateway Hotel in Penrith on the morning of Tuesday 24 January.
Mr Bowman, who farms at Castlerigg Farm in Armathwaite, said: "I decided to organise this meeting because Mr Bennett is visiting the county next week as he is the guest speaker at the NFU Cumbria Annual Branch Dinner so I thought this was too good an opportunity to miss."
* The NFU Cumbria Annual Branch Dinner will take place at 8pm on Monday 23 January in The Westmorland Hotel in Penrith. At the dinner, current NFU Cumbria Deputy County Chairman Trevor Wilson will take on the mantle of Cumbria County Chairman from Alistair Mackintosh.

Rural Payments Agency 'no confidence' vote


Get ready for SFP entitlement transfers


NFU Joins Fight To Save Cumbrian Cottage Hospitals