Devon Herd Tops NMR Production and Genetic Rankings
20/02/06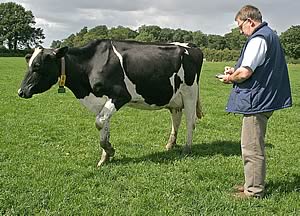 Breaking new ground, the same Holstein herd has come top on production and genetic performance in the latest NMR Annual Production report published this month for the year ending September 2005. NMR is the country's leading dairy management information company and records more than 50% of herds and 60% of cows in Britain.

John Pyne's herd from Clyst St Mary, Exeter, moves into top place from fifth with an increase in fat and protein production of 39kg. The 39 qualifying lactations averaged 12,018kg of milk and 899kg of fat and protein. His herd average PIN is £50 - £12 ahead of the Moet nucleus herd in second place and Grosvenor Farm's Hatton Heath Farm in third place with a PIN of £36.

In second place on production, and up from 10th with an increase of 6kg of fat and protein, is Norman West's herd from the Isle of Man, followed in third place by the Newman's from Dorset.

In fourth place and new to the top 10 is Peter and Michael Jones' herd from Llanvapley, Abergavenny, Monmouthshire. They have added 25kg of fat and protein to their 136-cow herd average, which now stands at 10,985kg of milk and 825kg of fat and protein.

Another newcomer to the top 10 and up from 14th to fifth is David Wright from Waddesdon, Aylesbury, in Buckinghamshire. His 66-cow herd now averages 12,005kg of milk at 819kg of fat and protein on three-times-a-day milking.

With only 15 qualifying lactations, due to a change in recording system, Einion Owen is in sixth place with 817kg of fat and protein and an average yield of 11,396. Mr Owen farms at Plas Uchaf, Llanfaethlu, Holyhead.

Staying in the top 10 and now in seventh place is Ian Sharman from Halam in Nottinghamshire. He is followed in eighth place by Richard Gibb from Eachwich, Newcastle upon Tyne, Northumberland. Mr Gibb, who farms with his brother Dennis, makes the biggest increase - up 31 places to eighth with an increase in fat and protein of 34kg. His 199 cows now average 805kg of fat and protein and 10,914kg of milk.

NMR/RABDF Gold Cup winner in 2005, John Round from Elmore, near Gloucester is another newcomer to the top 10. In ninth place, his 200-cow herd averaged 804kg of fat and protein and 11,536kg of milk. Janet and John Stone from Onecote, Stafford come in 10th place. Their 28-cow Critstone herd just topped 800kg of fat and protein, averaging 801kg with 11,911kg of milk.

High fliers in the top 1% listing include Derek and Margaret Parkhouse, from Gorran, St Austell in Cornwall, who add 18kg of fat and protein to their 325-cow herd average and rise up the rankings from 31st to 11th. Just behind them, and new to the top 1% nationally is Julian Taylor from Starston, near Harlesden, Norfolk.

Gold Cup winners in 2004, James and Jonathan Pickford from Staffordshire move into the top 20 on production listings along with Chris May from Wiltshire, Vickerys from Kent and Owens from Ceredigion.

There has been little change in the NMR rankings of other dairy breeds with the Cimarron Partnership from Wiltshire staying top of the Shorthorn list and the Tinkers from Yorkshire leading the Ayrshires. Mr and Mrs Martel from Guernsey keep top spot in the Guernseys. However, the Evans' Jersey herd, from Montgomeryshire, is now first in the Jersey breed.

Customers can get access to national and their county rankings by contacting NMR on 08457 660236 for their unique PIN number. Farmers without access to the Internet can request a simple printed format of national tables and their county.

NMR Introduces Type Evaluation Service