NMR Introduces Type Evaluation Service
09/09/05
Evaluator in action as part of new NMR service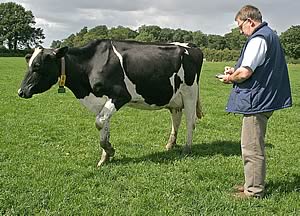 NMR is launching a new 16-trait Evaluation service this autumn. Available to all producers, key type details from a fully trained evaluator will be combined with NMR monthly individual cow data. With very little extra recording on the part of the farmer or herdsman, the new service will provide a more comprehensive breeding guide specific to each herd.
"We have introduced the Evaluation service in response to dairy farmer demand," says NMR's Mike Blanshard. "We're not classifying animals for the show ring, but for improved breeding, herd management and, ultimately, commercial benefit."
The 16 key traits used in NMR's Evaluation service all have an effect on cow longevity and production. "These are the general aims in most dairy herds," adds Mr Blanshard. "But each herd has specific objectives and areas for improvements and as part of the service, the evaluator will discuss these and incorporate them as an integral part of the service."
By working with fully trained dairy cattle evaluators NMR is able to give producers a comprehensive breakdown of their herd type. The evaluator scores all cows for 16 key traits. New animals are added and plans updated on the subsequent quarterly visits.
"Evaluators will have the current NMR production and health data to use with type details and produce full breeding reports," adds Mr Blanshard. "These will cover pedigrees, type summaries and a breeding guide with first and second choice bulls for matings.
"We are not restricting the bull recommendations to one or two suppliers. The database used will be able to access all UK available bulls."
NMR Evaluation is available for £4 a cow a year. For more information or to enrol producers can visit NMR's stand at the Dairy Event, Stoneleigh or the South West Dairy Show, or contact Customer Services on 08457 6602