25/01/06
Ledbury-based farm machinery dealer Richard Tooby (right) receives his 'Dealer of the Year' award from Landini UK area manager Paul Roberts.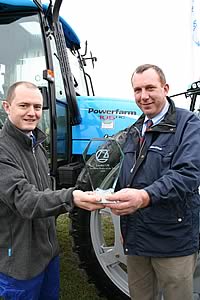 Top dealer in Landini's southern region for 2005
Sells and services tractors in Herefords, Worcs and Glos
Unique high-clearance tractor makes impact with soft-fruit growers
A Herefordshire engineering business servicing the machinery needs of farming, fruit growing, horticultural and groundcare operations in the area, has received recognition for its sales performance and standard of aftercare service.
The award - Southern Dealer of the Year 2005 - was presented by Italian tractor maker Landini to Richard Tooby Farm Services, Hereford Road, Ledbury for its outstanding sales and service record over the past 12 months.
"Richard has always been an enthusiastic retailer of Landini tractors and is recognised in his trading area for high standards of product knowledge and after-sales customer service," says Paul Roberts, Landini UK area manager. "But he and his team had an exceptional year in 2005 and is a worthy winner of our annual award."
Richard and Jenny Tooby have been running their farm machinery dealership for some 14 years, selling Landini tractors and a range of implements to go with them, together with spare parts, workshop tools and other 'countryside essentials'.
The tractors are increasingly popular in the area thanks to a range of sizes and power outputs that meet pretty well every need like the Powerfarm and Vision models for yard and field work on livestock and arable farms to the compact Rex that works in orchards and polytunnels.
But it is the latest design - a unique high-clearance four-wheel drive model - that has caught the imagination of strawberry growers in the area.
"The Landini Powerfarm HC has large diameter wheels all round instead of the usual smaller ones at the front so the ground clearance is much greater than normal," explains Richard Tooby. "That's a real attraction for growers of strawberries and other crops grown in raised beds because it means more routine operations can be mechanised and taller beds can be used for improved yields and quality and easier picking."
Asparagus growers are the latest producers to recognise the agronomic benefits of operating the new tractor, which can pass along the beds barely touching the tops of any crop growing below.
With a large trading area that encompasses all of Herefordshire, much of Worcestershire and the north-eastern area of Gloucestershire, the Tooby team needs to be efficient and on its toes.
"Fortunately, my wife Jen keeps us all on the right track while looking after essential administration," says Richard Tooby. "Meanwhile, our two service engineers - Alan Price and Ashley Stephens - do a good job with the spanners in our workshops and out on customers' premises."

New 'Powershuttle HiLo' transmission adds to Landini Powerfarm versatility


McCormick appoints new manager for brand development and communications


Valpadana's compact but tough ride-on mower