New 'Powershuttle HiLo' transmission adds to Landini Powerfarm versatility
20/01/06
Landini Powerfarm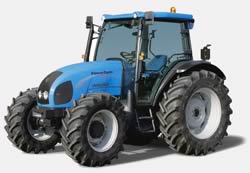 Powershuttle for easy direction changes without using the clutch pedal
HiLo two-speed powershift for clutchless gear changes
Wet clutch for increased durability; hydraulic 4wd and pto engagement
40kph gearing standard; creep speeds optional
A new transmission option for Landini's most popular tractor will further increase the appeal of the popular Powerfarm range.
"In just two years since its launch, the 59hp to 99hp Powerfarm tractors have become our best-selling models," notes Adrian Winnett, Landini UK sales manager. "They offer a sensible package in terms of size, features and performance, especially for livestock farms needing a good all-rounder. The new gearbox makes the tractor even easier to drive and more productive."
The Landini 'Powershuttle HiLo' transmission is available in place of the standard synchro shuttle all-manual gearbox on the four-cylinder Perkins engined 68hp, 82hp, 92hp and 99hp Powerfarm models.
It uses a wet clutch instead of the dry clutch of the standard 24 x 12 unit for greater durability and longer service life and replaces manual engagement of four-wheel drive and power take-off with hydraulic clutches.
"It's a more sophisticated package all round, with electro-hydraulic selection of forward, neutral and reverse using a control stalk that's easy to operate while keeping your hand on the steering wheel," notes Tony Burgess, Landini technical specialist. "And because there's no need to use the clutch pedal to make swift but smooth changes of direction, the gearbox is ideal for tractors used for loader work and other operations involving frequent shuttling."
The HiLo two-speed powershift, operated by a pair of buttons on the gear lever, enables the operator to cut forward speed in any gear by 20% to help the tractor cope with increased load - when approaching a lump of material in a grass or straw swath when baling, for example, or when ploughing into a heavier patch of soil.
"Changing down without losing momentum helps keep the engine spinning for maximum power and torque and once the conditions become easier again, the driver can flick up to the normal working speed for greater output," explains Tony Burgess. "There's also a declutch button on the gear lever, so the manual gear change can be worked without having to use the clutch pedal - again, it's easier and less tiring."
As standard, the four Powerfarm tractors equipped with the Powershuttle HiLo transmission come with 24 forward and 12 reverse speeds geared to 40kph for relaxed, more economical road travel. Eight creep ratios can be added for a modest £130 when extra-slow working speeds are needed.
For added security when parked - especially when stopped on a slope with a laden trailer or spreader - the driver can use a mechanical transmission lock to supplement the hand brake. On the move, oil-immersed disc brakes in the front axle give true four-wheel braking performance.
Retail prices for Landini Powerfarm Powershuttle HiLo tractors are as follows:
68hp Powerfarm 75 £25,227
82hp Powerfarm 85 £26,277
92hp Powerfarm 95 £26,974
99hp Powerfarm 105 £28,613

McCormick appoints new manager for brand development and communications


Valpadana's compact but tough ride-on mower


Valpadana two-way four-wheel drive tractor comes with added driver comfort