Sheep Study Confirms Efficacy of Footrot Vaccine
02/12/05
Sheep showing signs of footrot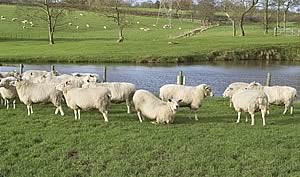 A four-year study across a total of 39 sheep flocks by the Universities of Bristol and Warwick has confirmed that the currently available footrot vaccine covers the D. nodosus strains causing footrot in England and Wales.
The vaccine available to UK sheep farmers originates from Australia and contains ten strains of D. nodosus known to cause footrot. However, this latest study - recently published in the journal of Veterinary Microbiology - confirms that the D.nodosus strains causing lameness problems for flocks in England and Wales are the same as those in Australia.
Commenting on the study findings, Schering-Plough veterinary adviser Paul Williams says sheep producers in this country can be confident in the efficacy of the Footvax vaccine for flocks where footrot has been confirmed as the cause of lameness problems.
"For vaccination to be effective it is important that producers have a definitive diagnosis of footrot, as opposed to any other lameness condition such as CODD or scald. It is important to recognise that CODD or scald are different conditions and cannot be controlled by vaccination," he stresses.
"If true footrot is the cause of lameness, the only way to break the disease cycle is to undertake a whole flock control programme."
Paul Williams says that the 'best practice' control programme starts by vaccinating and footbathing all sheep, then splitting the flock into two groups: those sheep that are obviously infected and those which are not infected. "This simplifies the treatment regime, reduces the disease challenge for uninfected sheep and helps identify those animals not responding to treatment for culling," he explains.
"Infected sheep should be given an antibiotic injection and walked through a footbath every five days. After three footbath treatments, any sheep that have not responded should be considered for culling. Uninfected sheep should be footbathed and moved onto clean grazing. If it is not practical to segregate uninfected and infected sheep, make sure all the animals are footbathed - again every five days," he says.
He recommends that annual vaccination should be a central part of the programme for all sheep that face a footrot challenge, with additional booster doses being used to treat infected animals.
"Vaccination with Footvax provides effective treatment for infected sheep, as well as long-term protection. A single injection of the vaccine can be used to treat footrot because antibodies are produced against D.nodosus. Sheep do not produce a natural antibody response to D.nodosus, which means they will never develop a natural immunity to footrot so will remain susceptible year after year. This is why vaccination is so important.
"An initial 1ml injection will stimulate adequate antibody response to treat existing infections and prevent new ones for up to five months. But it is advisable to vaccinate again four to six weeks later for improved cure rates and longer on-going protection. Thereafter, an annual booster should be sufficient to keep footrot at a manageable level," he advises.

New Resource for the UK Livestock Industry


Ramming Home Value of EBVs


Texel Genetics To South America