19/12/05
Chairman David Thomlinson with cattle from
his "Beeches Limousin" herd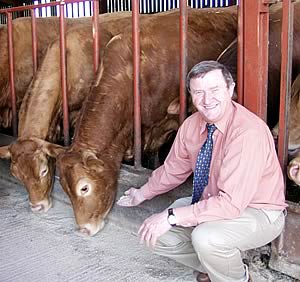 The National Beef Association has put together a new committee which will act on behalf of pedigree breeders - and one of its first jobs is to work with Defra to smooth the path for live exports when the ban is lifted.
It is chaired by David Thomlinson of Borderway Mart and co- ordinated by the NBA's technical specialist and policy advisor, Kim- marie Haywood.
"The Pedigree Breeders Committee has agreed that it will work to promote UK genetics throughout the world and encourage the breeding sector to take full advantage of new export opportunities for cattle," Ms Haywood explained.
"It will help specialists to canvas for new business and liaise closely with government officials to make sure that a simple, practical and cohesive live export structure is adopted across the EU."
"A big concern is that the UK cattle industry is falling behind its competitors in health terms and the committee will also link in with other sections of the NBA, as well as industry and government, where they are working to develop new health improvement programmes so disease problems do not impede future export sales."
Export requirements will be the same for both pedigree and commercial animals.
"We are working directly with Defra to list the procedures required by different countries before they will accept imported animals in both EU and non-EU countries," said Ms Haywood.
"Some of these are outlined on the NBA website, which will be updated regularly, because some EU countries can impose special health conditions and delivery to some international outlets can be quite complicated."
"All would-be exporters need to know that their cattle must have been on the holding of origin for 30 days and pre-export disease tests are required 30 days before travel, especially for IBR and TB."
"When the export ban is lifted this committee will be used to inform the pedigree sector of changes to document procedures – especially at border crossings," Ms Haywood added.

High Breeding Value Bulls Deliver in 2005 Sales


First export of Limousin and Belgian Blue Embryos to ROI


Welsh Winter Fair Yet Another Limousin Showcase