23/11/05

Neil Slack and Sparky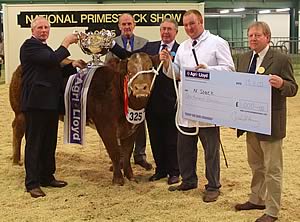 A tip-off that led Neil Slack to buy the Limousin-sired heifer named 'Sparky' after its outing at Alston Show, Cumbria, last autumn paid dividend when it took the supreme champion title at the National Primestock Show & Sale last weekend (Nov 19/20).
Standing at 600kg, Sparky initially took her weight class in the crossbred section for Limousin-sired stock ahead of the crossbred final.
Despite stiff competition from a similarly bred and styled 605kg steer from the Rice family of Yeadon, near Leeds, West Yorks, Sparky edged ahead under crossbred judge Roy Schofield and pedigree judge Richard Burton.
"We nearly had to call in the adjudicator, but as Roy said she really is a block of beef," explained Mr Burton, a breeder from Sibthorpe, Notts.
With just 18 cattle and 50 sheep on a smallholding at Penrith, Cumbria, Mr Slack's five-strong beef team earned him several other first and second place cards in addition to the Baby Beef championship.
And the auction of prize winners looked to be the icing on the cake for Mr Slack's outing, but the hammer failed to come down and Sparky left the ring unsold: "Just not enough. She owes me nothing; I'm taking her home to breed," said Mr Slack as he left the arena.
But there was no such drama with the reserve champion as the Rice family's Limousin-sired steer Dans Heir took a £1700 bid from J King of Holbeach, Lincs. It will provide a beef treat for local charities and help raise money for children in need, reported Mr King.
Taking the pedigree championship was W & M Seels' Blonde d'Aquitaine heifer, Burghwallis U2, that had taken its breed championship earlier in the day for the Doncaster, South Yorks exhibitor.
In the sheep section results were heavily dominated by Herefordshire breeder Robin Slade's Dutch Texels that saw this breeder accrue awards for best Texel, best other continental breed, best pen of lambs, best pure-bred lambs, best butchers pair, champion untrimmed lambs, champion Live/Dead lambs - a ticket he holds jointly with RO Cox from Stoney Stanton, Leics - and overall sheep champion titles.
"Select out of ewes that have proved them selves year-on-year and you get good show lambs," said Mr Slade who runs 360 purebred Dutch Texels at Pembridge, near Leominster, selling all replacement ewe lambs privately.
The quality of Mr Slade's champion pair clearly caught buyers' attention as bidding reached £820 apiece in favour of David Gardiner of Mere Heath, Staffs, under the gavel auctioneer Malcolm Gale of Uttoxeter-based Bagshaws.
Turnout for this year's show was a credit to all exhibitors, said George Young, chairman of the National Primestock Show & Sale. "Once again we've had a tremendous display and sale averages are up in almost all categories on 2004."
And there was more action to come in the carcass section.
Beef carcass exhibitor Frank Page of Lodge Farm, Elkington, Northants, is no stranger to the Primestock's league of former winners and this year saw his 296kg Limousin heifer cross carcass take the top ticket under judge Robert Beaman, farmer and butcher, of Bridgnorth, Shrops, and sell for £1057.86 (192p/lb).
Adding to his tally, Mr Page also took the reserve ticket with a 337kg entry that sold for £1001.70 (135p/lb) with both champion and reserve taken by Owen Taylor & Sons butchers of Leabrook, Derby.
It was a repeat performance in the lamb carcasses with David Wadland of Aston Le Walls, Daventry, taking both champion and reserve with Beltex cross wether lambs that made £132.24 (240/lb) to Parkin Butchers of Crowle, Lincs, and £129.57 (210/lb), P Parkin of Howden, East Yorks, respectively.
Pig carcass champion's title also went to a seasoned supporter. Peter Kirton of Kinlet, Worcs, took both champion and reserve cards with his Welsh cross gilts making £137.42 (240/lb) paid by Manifold Valley Meats, Staffs, and £134.58 (104p/lb) paid by J Sale Quality Meats, Staffs, respectively.
Turkey champion went to this year's beef carcass judge Robert Beaman with a 19lb hen that smashed last year's top auction price of £100. Buyer at £175 (921p/lb) was Simon Wragg & Sons, Newport, Shrops, with a donation going to the Air Ambulance.
Henry Hill of Abbots Bromley, Staffs' reserve champion 40lb stag sold for £92 (230p/lb) to charity fundraiser Ken Richards of Ibstones, Staffs. ENDS 712 words Note to editor. Jpeg images to accompany this release showing the supreme champion and other winners can be obtained direct from photographer Mark Heath on 07703-540510 and are provided tariff free when used with this release.
Results
PURE BRED CATTLE
Aberdeen Angus J Bustance's steer Northern Lad; res, M & HD Currie's steer Angus the Butler
Belgian Blue (under 525kg) N Beardsley's heifer Woodlands Wildthing; res, J S Wareham's Ridgedean Wallflower (Over 530kg) BE Williams' heifer Niaomi; res, D Small's heifer Ridge Dean Wicker
Blonde d' Aquitaine W & M Seels' heifer Burghwallis U2; res, WP & RE Kinnish's Kinaston Viola
Charolais Mudd & Bentley's steer Tizzwoz; res, W Owen's heifer Allanfauld Vandy
Hereford M J Clark's steer Lowesmoor Xanadu; res, MJ Clarke's heifer Lowesmoor Curly
Limousin GR Fountaine's steer Quinbury Violator; res, Morris Farms' steer Black Magic
South Devon G R Fountaine's heifer Billington Whichita Springs; res, N & E Bunkum's heifer Tania
Welsh Black B E Williams' heifer Samantha, res, Owen Bros' steer Bodig Rhys
Any other continental pure bred A Clements & Ptnrs' heifer Barshams Real Treasure; res, S Eales' heifer Peatling Pussy Willow
Any other native pure bred SJ & J Clathworthy's heifer; res, JS Madders & Sons' Longhorn steer Kracker
Overall Pedigree W & M Seels' Belgian Blue heifer Burghwallis; res, BE Williams' Belgian Blue heifer Niaomi
CROSS BRED
Overall supreme Neil Slack's Limousin cross heifer Sparky; res, Messrs Rice' Limousin cross steer Dans Heir
Baby beef Champion Neil Slack's Limousin cross heifer Crazy Chick; res, F Page's Limousin x Belgian Blue steer Babyshambles.
SHEEP
Beltex SA Morris' ewe lamb; res, DS & LE Wadland's ewe lamb
Jacob JC Dixon's wether lamb; res, JC Dixon's wether lamb
Shropshire Mrs YAC Palmer's lamb; res, Mrs C Wadland's ewe lamb
Texel RJ Slade's lamb; res, P Houdley's lamb
Any other native breed Mrs MA Wilson's Llanwenog ewe lamb; res, Mrs MA Wilson's Llanwenog ewe lamb
Any other continental breed RJ Slade's Blue Texel; res, SR Stamp's Charollais
Live/Dead RJ Slade's Dutch Texel; joint champion RO Cox's Beltex cross
Best pen of lambs R J Slade's Dutch Texel; res, RJ Slade's Dutch Texel
Best pair purebred lambs R J Slade's Dutch Texel
Best pair of butchers lambs RJ Slade's Dutch Texel
Untrimmed sheep R J Slade's Dutch Texel; res, P Houdley's Beltex x Texel
CARCASSES
Beef F Page's 296kg Belgian Blue cross Limousin heifer; res, F Page's 336kg Belgian Blue x Limousin heifer
Lamb DS & LE Wadland's 25kg Beltex cross; res, DS & LE Wadland's 28kg Beltex cross
Pork AG Kirton & Sons' 55.7kg Welsh cross gilt; res, AG Kirton & Sons 58.7kg Welsh cross gilt
Turkey GR Beaman & Son's 19lb hen; res, H Hill's 40lb stag

National Primestock Show & Sale 2005 will Demonstrate Best Of British


The National Primestock Show and Sale