Roxan has sheep identification tagged
15/10/05
Welsh sheep producer and Farmers Union of Wales hill farming committee chairman Derek Morgan first saw automatic tagging systems in New Zealand six years ago.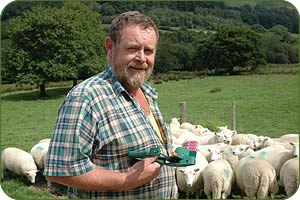 Derek Morgan with his automatic tagging gun.
He was looking at the country's monitor farms system under a scholarship from the Welsh Sheep Strategy and the hill farm Safn y Coed, Llangurig, near Rhyader in mid Wales which Mr Morgan runs with his wife Veronica subsequently became one of the monitor farms for the Welsh TIR system (Technology Interactive Resource) for two years.
"The New Zealand sheep producers were using automatic tagging guns - they had been using them for years," said Mr Morgan, who runs 450 Welsh ewes and followers.
Back in the UK he came across the automatic sheep tagging system Adamatic, developed by Scottish Borders company Roxan ID and started using the tags in 2002.
Among those already who have also taken up the system are The Royal College of Agriculture at Cirencester, SAC, Roslin, and many leading sheep producers and breeders.
In the last 12 months, Roxan tag sales have more than trebled to six million in the UK thanks to the popularity of Adamatic. This represents one in five UK lambs/sheep.
"I have been using the Adamatic system for prime lambs because I have to identify the sheep when they go off the holding and because the tags have such a small pin they are ideal for young lambs.
"They don't even flinch when the tags go in. Welsh sheep have got smaller ears than most breeds," said Mr Morgan, who has been the FUW's hill farming committee chairman for a number of years. He says the system will be an advantage when double tagging of sheep is introduced.
The flock at the 160-acre Safn y Coed is all bred pure and lambs are tagged at birth from late March to the end of April. The flock also runs on the neighbouring common Cwmdauddwr.
Numbers on the small ear tags are easily read and they are still legible after three years. The tags also have a high retention rate with only around two per cent of tags lost, says Mr Morgan.
Safn y Coed was one of 30 enterprises (16 sheep and 14 cattle) which took part in a two year Welsh Electronic Identification (EID) Evaluation Project run by Hybu Cig Cymru/Meat Promotion Wales which finished in March 2005.
Mr Morgan chose Welsh software provider Robin Griffiths' Cwmni Cefn Gwlad, at Caernarvon, one of four EID systems selected for evaluation over the two year project, using Roxan ID's electronic Adamatic tags and gun.
The project, managed and monitored by HCC in association with the Institute of Grassland and Environmental Research (IGER), under the Farming Connect Sheep and Beef Development Programme aimed to fully evaluate the feasibility and practical issues involved in introducing electronic identification onto a range of Welsh enterprises and to demonstrate the potential benefits that EID could bring to the Welsh livestock industry.
The EU regulation passed in December 2003 provides for double tagging with individual identification numbers within six months of birth or prior to movement, whichever is the earliest - there is derogation until April 2006, and mandatory electronic identification (EID) by an as yet unspecified date. January 2008 is the expected date for EID to be made compulsory.
The results across the project, however, revealed a need for further development if there are to be systems that can consistently provide a reliable and easy to use traceability system.
Mr Morgan said: "I can't see the benefit of electronic identification for traceability of individual sheep. For a management system if it works it would be brilliant. We record about 70 ewes for the breed's sire reference scheme.
"Electronic tagging is putting an extra cost of £1.30 per lamb sold and producers have got to ask themselves if they can afford this extra cost if they aren't going to get any extra for their lambs. The systems have got to become cheaper."
The evaluation project was set up as a result of the anticipated EU regulation for the identification and registration of sheep.
The Morgans would like to continue with the electronic system now that it has been set up if inconsistencies in transmitting information from the hand-held reader can be resolved.
Through the scheme, all management and breeding information can be recorded onto the farm's computer using specially designed software.
Lambs were double tagged with electronic Adamatic tags and Adamatic standard electronic tags. For breed society and sheep sale purposes, different coloured tags are used each year and each tag bears the UK flock number and individual six digit number.
Roxan's larger Bubblegum tags with an electronic chip were used on the older ewes. The Bubblegum tags are made of a soft material and if the tags become caught they split at the joint, leaving both halves of the tag in the sheep's ear which does not get ripped.
Finished lambs are all sold through the live auction system at Rhayader from August through until Christmas.
Breeding ewes are also sold to producers across Wales at Rhayader in October.

Tagging Automatic for Lleyn flock on Yorkshire Estate


Automatic sheep tagging system cuts time and labour