New Secretary for Bluefaced Leicesters
02/09/05
Jean Gibbon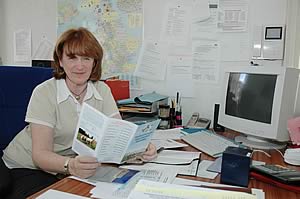 Jean Gibbon brings a wealth of livestock and veterinary knowledge to her new role as secretary of the Bluefaced Leicester Sheep Breeders' Association.
Jean has started her new position in the association's office in Annan in South West Scotland before the busy main autumn sales programme begins for the breed.
She lives on a beef and sheep upland holding with her farmer husband David at Furmiston, Carsphairn, near Castle Douglas and had previously worked for 14 years in the region for what is now Defra, latterly as an Animal Health Officer for the State Veterinary Service.
Jean spent the first five years of her work with Defra as an administrator then she took on the job as one of two animal health officers in Dumfriesshire and Kirkcudbrightshire in an on-farm advisory capacity, discussing disease risks, ear tagging and testing of cattle and sheep for disease.
It was through the National Scrapie Plan that she encountered Bluefaced Leicester breeders, among other sheep farmers, and she was impressed with the breed and the influence it had on hill sheep, particularly on consistency of breeding and temperament.
"I think the breed has an exciting future when you see the crossbred sheep - being previously only familiar with the native hill breeds," said Jean, who plans to settle into her new position over the next few months and assess the situation.
"I hope the society will continue to progress and blossom as it has done under my predecessor Fiona Sloan," she added.
Her work involved her with poultry testing and she spent weeks away from home testing pigs for swine fever in East Anglia during the outbreak in 2000.
However, the biggest task was during 2001 with the foot and mouth epidemic when she was at her busiest looking after more than 200 temporary veterinary inspectors and temporary animal health officers who were trying to get the outbreak under control. Because she was handling infected materials she was unable to return home for four and a half months.
Originally from the suburbs of Glasgow, Jean met David, who farmed near Bishop Auckland, County Durham, at Auchincruive College, Ayr, where she did a dairy husbandry course - girls weren't able even then to study agriculture!
When they married they tenanted a farm half way between their respective homes near Lockerbie - Burrance, Templand, where they ran a herd of pedigree Jerseys and a flock of Herdwick sheep.
In 1994 they took the opportunity to buy their own hill farm at Carsphairn, selling the Jersey herd and initially selling Jersey in-calf heifers.
They now run a fold of 70 Highland cows and followers and they took on the farm's flock of Blackface sheep.
They have three daughters, one son, and five grand children. The eldest daughter, Emma is a full-time mum and married to an arable farmer in Aberdeen, Lucy is an archivist with the local council in Orkney, Tessa lives near Moffat and is also a full-time mum and Robert, who marries this summer, is an agricultural officer also in Orkney.
Through David's office of chairman of the Jersey Cattle Society in the early 1990s and the breeding of pedigree livestock Jean is familiar with the workings of breed societies.
She has been Chief Breed Steward at the annual AgriScot show for 10 years and is the Jersey steward at Dumfries Show.
Another example of her organisational skills is her role as secretary of Carsphairn Show, a sheep event in June, which she has maintained for seven years.
In her spare time, Jean enjoys fishing - they have one and a half miles of fishing at the farm.
She also enjoys cycling during the summer - a hobby she has pursued since taking part in a 300km sponsored cycle ride across Tanzania to raise funds for children with cerebral palsy.
© Copyright 2005 Jennifer MacKenzie All Rights Reserved.