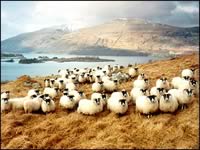 Blackface Prime Lambs Promotion
02/09/05
The North of England branch of the Blackface Sheep Breeders is running a show next month as part of a promotion for Blackface prime lambs.
In the branch area there are more than 150 farms finishing Blackface lambs which are sold at local auction marts.
To start off the promotion the branch is holding a Blackface prime lamb show at Hexham Auction Mart on Tuesday September 13.
The competition is open to Blackface members and is for a group of 10 prime lambs.
"Blackface lamb is available for many months from the auction mart or from local farms," said branch secretary Margaret Telfer, of Demesne Farm, Bellingham.
"Many butchers and restaurant have agreed to participate in this promotion which is being sponsored by the National Trust.
Anyone interested should contact branch chairman Willy Walton tel 01434 344593.