10/09/05
Increased power, performance and fuel economy are the hallmarks of the new 8030 Series tractors from John Deere, which line up as follows:
| | |
| --- | --- |
| Current models (97/68/EC rated hp) | New models (97/68/EC rated hp) |
| 8120 - 208hp | 8130 - 225hp |
| 8220 - 233hp (+ tracked 8220T) | 8230 - 250hp (+ tracked 8230T - 240hp) |
| 8320 - 263hp (+ tracked 8320T) | 8330 - 280hp (+ tracked 8330T - 280hp) |
| 8420 - 284hp (+ tracked 8420T) | 8430 - 305hp (+ tracked 8430T - 305hp) |
| 8520 - 305hp (+ tracked 8520T) | 8530 - 330hp |
New Tier 3 engine technology is designed to produce higher torque at lower engine speeds, leading to better fuel economy and higher productivity in the field. The new design has resulted in 10 to 20 per cent more power, up to five per cent better fuel economy and 40 per cent lower NOx (nitrous oxide) exhaust emissions, compared with the Tier 2 engines they replace.

Five wheeled and three tracked tractors make up the new 8030 Series, including the most powerful rigid body tractor on the market, the 330hp 8530 model, with a maximum rating of 360hp. The new 9-litre PowerTech Plus six-cylinder, four-valve common rail engines feature a number of innovative components designed to reduce emission levels and overall running costs, while maintaining or improving performance, fuel consump­tion, durability and torque. These include:
an exclusive variable geometry turbocharger - adjustable airflow elements allow the optimum intake of air depending on engine rpm. Thus, more torque is generated at lower engine speeds, which helps to save fuel as well as provide a quicker response to loads;
the VariCool variable speed cooling fan drive system - the new cooling package has been redesigned and moved forward within a new hood design to improve airflow and aid cooling through the tractor. The larger 767mm diameter fan incorporates a variator drive that allows stepless variation of the fan rpm according to the tractor's actual cooling requirements, irrespective of engine rpm. This results in more efficient cooling, lower noise levels and a further reduction in fuel consumption;
cooled exhaust gas recirculation - using an electronically controlled valve, cooled exhaust gas is recirculated and mixed with the air to reduce the oxygen concentration, which in turn lowers combustion temperatures. This allows the engine to meet increased emission standards without compromising performance.
In addition, rated speed has been reduced to 2100 rpm and standard pto speed has been reduced to 2000rpm, while torque has been increased by up to 40 per cent, with a 37 per cent faster torque rise. Up to 30 extra horsepower can be achieved over a wide constant power range, with maximum power achieved at 1950rpm.
Two improved transmissions are available for the new 8030 Series tractors. The Automatic PowerShift (APS) 42kph transmission is available on every model, wheeled and tracked, except the 8530; this features 16 forward and 5 reverse speeds, with fully automatic shifting and Field Cruise control. As well as offering improved shift quality, APS features new, customisable transmission settings within the CommandCentre control system, for optimum performance in the field.
The new AutoPower infinitely variable transmission, designed by John Deere specifically for the 8030 Series, offers stepless speeds from 0.05 to 42kph, with full electronic engine and transmission management and Field Cruise control. This is available as standard on the 8530 or as an option on the other four wheeled models.
This transmission's automatic utilisation of the total available power keeps the engine running at peak performance, which means more ground can be covered per hour. AutoPowr also features a choice of left-hand or new right-hand reverser, with the latter built into the main CommandArm armrest console controls.
The newly designed hydraulic and drive train system reduces power losses during transport by up to 50 per cent compared with 8020 Series tractors. This means 30 to 40 more engine hp can be converted into usable power, which also helps to save fuel. Other new features include a three point hitch with category 4N lower links on the 8530 model, which is optional on the 8430. Models with category 3 hitches have 20 per cent more lift capacity at 10.8 tonnes, while the category 4N hitch provides extra lift to 11.8 tonnes.
New Agricultural Management Solutions (AMS)
GSD touch screen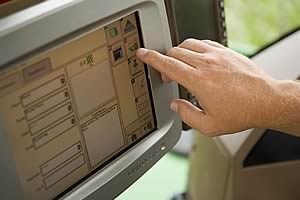 High levels of accuracy, repeatability and ease of use are offered by John Deere's new generation of AMS GreenStar 2 products for precision farming applications. These include the new GreenStar Display (GSD) 2100 and 2600 colour displays, which can be used to show key tractor functions.
Designed with push-button controls and a touch screen on the GSD 2600, these new displays are mounted within easy reach of the operator, along with remote display controls that can be conveniently mounted in several easy to reach locations within the tractor cab, including the CommandArm.
The displays feature a 128MB memory, USB port and compact flash memory card slot, and both come packaged with all-new guidance and documentation software to operate Parallel Tracking, Field Doc and Harvest Doc. They are also fully ISOBUS compatible, and can be used to monitor and control a wide range of implements including fertiliser spreaders, forage wagons, potato harvesters, ploughs and seed drills.
John Deere's StarFire positioning technology processes differential GPS signals to pinpoint a machine's location in the field, to improve accuracy and productivity.Customers can now choose from three levels of positioning accuracy without changing the receiver hardware, allowing them to be tailored to specific applications:
a free SF1 signal, offering an accuracy of +/-30cm, is suitable for Parallel Tracking and is now available for AutoTrac guidance when performing tillage, spraying and lime or slurry spreading operations;
an SF2 signal is available on payment of a licence fee, offering accuracy of +/-10cm for harvesting, tillage, seeding, planting and mowing;
the new RTK signal is accurate to +/-2cm, with true repeatability in the field - there is no licence fee, and the battery or mains operated base station can be portable or fixed to cover one or more working machines within a 10km line of sight range.
For both new and existing GreenStar customers, free software upgrades are available, including the new Curved Track mode for the AutoTrac assisted steering system. This allows the operator to follow the natural contours of a field or operate on headlands more easily. Customer service features for the AMS GreenStar product range include the Stellar Support website, which offers round the clock advice, operators' manuals and product tutorials, as well as software.