Limousin Society Registers 250,000th Calf
26/09/05
Tandlehill Anna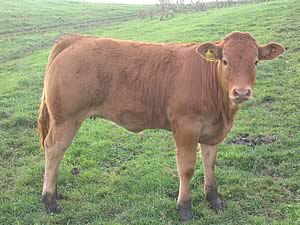 The ongoing growth in registrations of pedigree Limousin cattle has been highlighted with an announcement from the British Limousin Cattle Society that it has recently registered its 250,000th calf.
Tandlehill Anna, an 15th May born heifer, was the young lady whose registration broke through the quarter of a million landmark. Bred and owned by Mr TH Tonge, Hough Farm, Slattocks, Middleton, Manchester, Anna is sired by Threaphurst Magnum and is out of Siddall Raine.
The breed's rise in registrations has been year on year since the Society's foundation in 1971. In recent years, the expansion has been dramatic with the last 100,000 registrations being achieved in just over six years. In 2004, the Society registered a breed record of over 18,000 head in the year. The ten-year trend shows an increase in pedigree Limousin registrations of 77.4% since 1994.
This pedigree performance is reflected commercially with a total of 716,320 Limousin-sired passports being issued in 2004, a record level and a rise of over 9,000 on the year. Since the establishment of BCMS nine years ago, to record all British cattle births and movements, over 6,000,000 (six million) Limousin-sired birth registrations have been recorded.
Commenting on these figures, BLCS Chief Executive Iain Kerr said, "This is another terrific landmark for the breed to reach. The Limousin's popularity continues to be driven by its ability to deliver all-round performance and a profitable carcase".
Tandlehill Anna's breeder Mr. Tonge has been presented with a figurine of a Limousin calf to mark this pedigree registration landmark.