First Limousin Embryo Export to USA
23/09/05
The first bovine embryos have been exported to USA following extensive negotiation of health conditions. Hexham based company Eggs-Port has recently exported the embryos, all sired by top Limousin bull Nenuphar and collected from Glenrock Riverdance and G. Riviera, twin daughters of Glenrock Juniper, the best breeding cow in the Glenrock herd of Stephen & Helen Illingworth.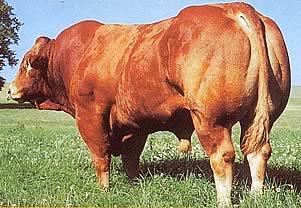 Nenuphar
Both embryo donors are closely related to a string of exciting breed sires. The dam, G. Juniper bred Glenrock Ulysses, the new stock bull at Greenmount College and Glenrock Spartacus that was Junior Champion & Reserve Overall at the Highland Show '03. In May '05 a Nenuphar son, Glenrock Valiant sold for 12,000gns at Carlisle.
The embryos are destined for Linda Fabiola, Dallas and Bob & Betty Anglani of Cedarcreek Ranch, Missouri. Both breeders have used Marquis semen from Glenrock in the past, and have been so pleased with the calves that embryos were the next logical step forward to progress their herds.
"Getting this shipment to USA is a major breakthrough for the UK - both individual breeders and the cattle breeding industry" say Sheila Eggleston of Eggs-Port who has played a pivotal part over many months to overcome bureaucratic obstacles to the export. The embryos were collected by Paragon Veterinary Group of Hexham whose senior veterinarian, Will Christie is world recognised as an expert in embryo transfer development and procedure .
For further details please call :

Sheila Eggleston 01434 600602
Email : info@eggsport.co.uk
Will Christie : 01434 600566
Email : paragon@ukonline.co.uk