03/08/05

Investigation reveals that selecting terminal sire rams for increased lean meat yield could benefit the industry to the tune of £15 million.

The British Rouge Sheep Society recognizes commercial lamb producers face many challenges in making profits and meeting the demands of the modern consumer and commissioned a case study looking at 2 commercial sheep producers in Northern Ireland.

The two Northern Ireland commercial sheep producers who helped with this case study are:

Edwin Hegarty of Coleraine runs a 200 head Texel ewe flock and has been using a Rouge bred ram for 5 years. Originally brought to use on his ewe lamb flock, Edwin now bypasses these young ewes and waits until they are Gimmers, as they produce a better lambing %. Lambing takes place indoors towards the end of March/beginning of April. Lambs are not creep fed and are weaned end of July/beginning of August. The meat plant that Edwin sends his lambs to is WD Meats and receives 10p a kg bonus for E3's up to 23kg. To minimize the risk of disease from buying in replacement ewes, Edwin keeps his best twin ewe lambs to integrate into his breeding flock.

Texel ewes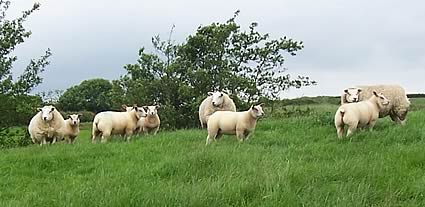 Fergus Harbinson of Limavady is a Beltex pedigree sheep farmer who also runs a 300 head Texel cross Beltex ewe flock and has been using a Rouge ram for 6 years. Again Fergus does not breed from his ewe lambs, but lets them run onto Gimmers. Lambing takes place indoors during February and March, and his lambs are creep fed as Fergus has found they achieve a better killing out %. Lambs are weaned at end of June/beginning of July and sent to Doherty & Gray, where Fergus is receives 25p a kg bonus for E3's up to 23kg.
Texel cross Beltex ewes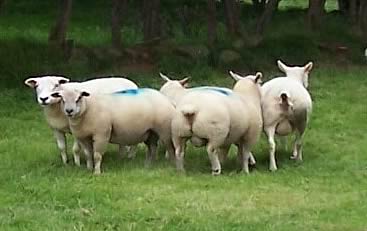 Piers Connolly, Doherty & Gray's livestock buyer said, "I have been purchasing cross bred lambs from Fergus Harbinson for many year's. The Beltex cross Rouge lambs meet the demanding specification of our Specialist High Street Butchers who require a lamb with excellent shape, reasonable scope and good eating qualities. This cross meets those requirements".
Fergus sells his ewe lambs for breeding, and believes if then used with a Texel or Beltex ram, the by- product (lamb) makes an excellent butcher's lamb.
By using a Rouge bred ram as a terminal breed sire both sheep producers found it brought the many benefits vital to a successful commercial sheep enterprise:
• Ease of lambing
• Lively lambs at birth
• Lambs quick to suckle
• High rate lamb survival
• Hardy lambs - very quick from pen to field
• Once out at grass lambs achieve a good growth rate, 40kg at 90 days
• A high meat to bone ratio contributes to an excellent killing out %,
- Texel x Rouge lambs 55% - Texel x Beltex x Rouge lambs, 53% - 57%.
• The characteristic tight skin and fleece means a better lamb carcass, grading at E or U3
Another huge advantage to the commercial sheep producer is that Rouge cross females make excellent replacements which are a central part of a successful commercial flock and inherit the traits of Rouge ewes:
• Very maternal
• Milky
• Prolific (averaging 170% - 190%)
• Good conformation which they pass onto their lambs
Both case studies highlight the many benefits of the Rouge De L'Ouest breed; as a terminal sire on a Texel or Beltex ewe, or as a replacement ewe in a commercial sheep enterprise.
At the Highland show in June this year in the sheep Interbreed competition, reserve spot was claimed by Co Antrim-based Sam Smyth's Rouge De L'Ouest shearling ram, which was bought last year at Dungannon for 980gns from Jane Pollock. Interbreed judge Tom Laird described this sheep as a tremendous example of it's breed. "I can envisage progeny of this animal hanging up in abattoirs and it would be exactly what the market wants."
The Rouge ram may just be the perfect sire commercial sheep farmers are looking for to sire their 2006 crop of lambs.
Fergus is paid 25p a Kg bonus for E3's up to 23Kg