New Holland enhances TS-A tractor range
27/07/05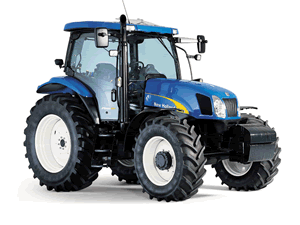 Agricultural machinery specialist New Holland has extended the offering in its TS-A Series by adding three new tractors and introducing a number of enhancements to existing models.

The launch of the TS-A two years ago was acknowledged as a quantum leap in terms of driver comfort and operating efficiency in the highly competitive 100-140hp, lightweight, multi-purpose tractor sector and these latest changes will ensure the TS-A maintains its lead over the competition.
The three brand new Delta models are aimed at buyers that want a flexible, general-purpose and economical tractor, while the rest of TS-A Series has been improved to a degree that more than justifies the 'Plus' designation that they now carry.

At launch, the TS-A Series had a clear focus on high technology, with features such as four-valve common rail engines delivering the best torque performance of any tractor in this class, while New Holland's Engine Power Management helped the range deliver phenomenal power to weight ratios.

Intelligent, auto-shifting transmissions and time-saving automated headland turn systems ensured that the TS-A appealed to buyers looking for a lightweight, high-performance tractor for primary and secondary cultivation equipment or hay and forage production where high power at the PTO was required.

However, two key elements were identified as requirements that the TS-A Series did not address. The overall height of the tractors limited access to some buildings, while other buyers were put off by the high levels of basic equipment.

TS-A Delta
To address these concerns, three, new, low-profile Delta models have been added to the TS-A range to widen the list of tasks that these all-purpose tractors can handle. The new models, which feature new engines specifications coupled to simplified transmissions and hydraulic systems, are ideally suited for loading, mowing, haymaking, fertiliser and manure spreading, and general haulage - or any application where operating costs need to be kept to a minimum.

Comfort remains a priority on the new tractors. The TS-A's Horizon™ cab set new standards for comfort and the newly launched low profile Horizon cab carries on that tradition despite the fact it is lower than the standard cab. The revised cab - which along with a shorter exhaust pipe gives a 150mm height advantage - still features a loader view window as many of the new tractors are expected to be supplied with a factory fitted loader package.

Designated the TS100A Delta, TS110A Delta and TS115A Delta, the new models are rated at 74kW (101hp), 83kW (112hp) and 85kW (116hp) respectively. All feature two valves per cylinder and mechanical fuel injection and can be ordered with three levels of transmission - New Holland's 12x12 Synchro Command mechanical shuttle; the 24x24 Dual Command with two-speed powershift or the 16x16 Electro Command with four-speed powershift
The tractors feature a fully mechanical hydraulic linkage that is simple to operate and simple to maintain. Powered by a 63 litres/minute hydraulic pump, the hydraulic system also comes with the exclusive Lift-o-Matic system that provides all the features and convenience of electronic linkage control without the complexity, even Auto PTO and Auto diff-lock control are features that are included. A dedicated steering pump ensures loader cycle times are unaffected when manoeuvring.
TS-A Plus
The remaining tractors in the TS-A Series have been designated TS-A Plus and have received a package of enhancements including the option of a new, economy 17x 16 40kph gearbox that allows maximum travelling speed at low RPM to ensure lower fuel consumption. The Eco Drive 40 kph transmission utilises the TS-A's unique 50 kph Direct Drive hardware. Engine power passes down the PTO shaft and is then taken through the 17th gear directly to the rear axle. The difference with the Eco 40 kph version is that the engine will automatically reduce its speed once 40 kph is reached. The combination of the lower engine speed and the fact that the main transmission is in neutral when 17th gear is engaged can reduce fuel consumption by as much as 10%* when operating at 40 kph (* New Holland measured figure)

New Holland's Headland Turn Sequencer, an on board recorder capable of recording a complete headland turn including changes in engine speed and gear shifts, is now available on all TS-A Plus models as is a lower specification Performance Monitor for customers wanting a low cost area meter.

In addition, all the TS-A Plus models are supplied with air conditioning as standard. In conjunction with the Horizon™ cab, driver comfort is assured. Comfort can be further improved with the addition of cab or front axle suspension on the TS-A Plus models. FastSteer can be specified on any TS-A Plus tractor, the system delivers full control of the steering by turning the steering wheel by just 8 degrees. The New Holland Supersteer™ front axle is also available for the best possible turning circle.

New Holland's Terralock™ traction management system is available on all TS-A Plus models. It automatically controls four-wheel-drive and differential lock engagement for mounted and trailed implements.

Apart from the TS100A Plus and TS115A Plus, the TS-A Plus tractors feature electronic fuel injection and New Holland's variable engine power management system. This boosts the rated power to 101kW (137hp), 106kW (147hp) and 119kW (162hp) for the TS110A Plus, TS125A Plus and TS135A Plus respectively.

Transmission choice includes the 24x24 Dual Command and 16x16 Electro Command transmissions available on the low profile TS-A models, as well as a third option of New Holland's 16x16 Active Electro Command. As well as the Eco Drive 40 kph and Direct Drive 50 kph versions.

Electronic Draft Control is standard across the TS-A Plus tractors. This features an 80 litres/minute hydraulic pump as standard, while an optional 113 litres/minute closed centre load sensing pump can also be supplied. A dedicated 40 litres/minute pump supplies the tractor's power steering circuit.

The revised TS-A line-up, which now features eight models rated between 74kW (101hp) and 100kW (136hp), is the most comprehensive yet. Overlapping perfectly with the TL-A and TDD at the lower end of the power range and the TM and TVT at the other, it demonstrates a level of choice that is only available from a specialist like New Holland.
NEW HOLLAND TS-A MODELS:
Model kW (hp) Cyl / Valves / Aspiration
TS100A Delta 74 (101) 4 / 8 / T
TS100A Plus 74 (101) 4 / 8 / TI
TS110A Delta 83 (112) 4 / 8 / TI
TS110A Plus 85 (116)* 4 / 16 / TI
TS115A Delta 85 (116) 6 / 12 / TI
TS115A Plus 85 (116) 6 / 12 / TI
TS125A Plus 92 (125)* 6 / 24 / TI
TS135A Plus 100 (136)* 6 / 24 / TI
*Engine Power Managed engines with up to 26 Hp additional rated power