26/07/05
Alyn Smith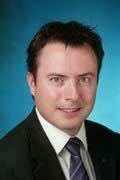 Member of the European Parliament, Alyn Smith, spent the day getting his hands dirty down on the farm recently.

Keen to learn first-hand what life is like for Scottish farmers, Alyn undertook a day of work experience with Jim Hume at his farm Sundhope, near Selkirk. Part of a two-week programme of work experience within a variety of industries, the visit also encompassed a meeting with local farmers to discuss current issues facing the Scottish farming industry.

One topic to which much discussion was dedicated was that of renewable energy and biofuels and the need for a concerted effort on the part of politicians at all levels to develop this, currently somewhat neglected industry, to the benefit of both the environment and farmers.

Following his day on the farm, Alyn Smith said:

"In my view, getting out and talking to people is something which MEPs can't and don't do as much as they should.

"If you can walk for half an hour in someone else's shoes you can learn more than you would in a week walking in your own. I think that all politicians would benefit from a similar experience. We spend so much time talking to each other and not enough time talking to our constituents and this is something I would like to change. It's all part of keeping in touch.

"Farmers are going through a period of great change at the moment and it's important that we are able to fully understand their views and needs."

Jim Hume, who, in addition to being host for the day, is NFU Scotland Regional Board Chairman for Lothian & Borders, said:

"Alyn had specifically requested that we didn't give him any special treatment so we got him to muck in with all usual jobs and I was very impressed with his enthusiasm! We had him dosing sheep in the morning and then planting hedges in the afternoon and he worked really hard. He seems to have a pretty good understanding of farming and the legislation surrounding it but I think that nothing quite beats hands on experience when it comes to learning more. I hope that he had a valuable day.

"Farming is of crucial importance to Scotland, and particularly to the Borders, providing 26% of GDP in the area. Farmers are also vital to the maintenance of our countryside and environment and so I believe it is essential that all politicians maximise their understanding of the industry by experiencing it first hand."