H & H Group Appoints New Directors
12/07/05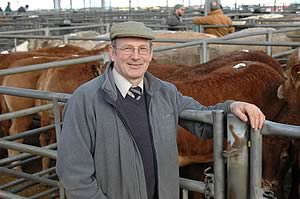 Michael Scott
The H&H Group, Carlisle has made two new and additional appointments to its main board of directors.
Farmer Michael Scott, who was appointed vice-chairman of the Group's farmstock subsidiary Harrison & Hetherington's board earlier this year, and Gretna businessman Alasdair Houston have both joined the main board of directors.
Michael Scott is a staunch supporter of the live auction. "Live auctions are the only way of setting the trade. Even people who sell privately have to have a benchmark to work to," said Mr Scott.
"Harrison & Hetherington continues its success as the country's leading auction company which is reflected in the number of buyers and quality of cattle entered at the special two day continental store sales, and thanks to a very good team from senior and junior auctioneers through to support staff."
Michael Scott and his brother, Robert farm 1,250 acres in partnership with Michael's son, also Robert, at Thirlwall Castle, Greenhead with Michael's son, Ian and Robert's son, David also involved in the business.
They run 400 Limousin cross suckler cows which are crossed with the Limousin bull, selling suckled calves two times a year at the spring and autumn continental store cattle sales in Carlisle where they have been selling since moving to Thirlwall Castle in 1963.
Thirlwall Castle also carries 1,500 Swaledale ewes, three quarters of which are crossed with the Bluefaced Leicester with the remainder bred pure. There are a further 600 Texel cross ewes which are either put back to the Texel or crossed with the Beltex, and prime lambs are finished off the farm. Mule gimmer lambs are sold at the annual Carlisle Luke Fair sale in September.
Alasdair Houston has been managing director of the Gretna Green Group for the last decade, taking over from his father, Adair, and now overseeing the group's newest project, a £5 million investment in a 50-bedroom quality hotel and conference centre which will provide an additional 50 jobs for the area when it opens in February 2006.
The Gretna Green Group, which has grown and diversified significantly with a core business of tourism, including retailing, property development and catering, employing around 150 people, was founded by his great-grandfather, Hugh Mackie in 1886.
Mr Mackie bought the agricultural property, the Gretna Estate and had the enterprising foresight to open the doors of the old blacksmith's shop. The centre is now a world famous wedding venue and tourist attraction.
A graduate in land economy from Cambridge University, Mr Houston completed a year's post graduate course at Edinburgh School of Agriculture before joining the family business in 1985, initially for the first five years with the farming operation at Gretna, before becoming more involved with the commercial side of the Group's business.
After losing herds of pedigree Charolais and Simmental cattle in 2001's foot and mouth epidemic, the enterprise now concentrates on a 140-head pedigree Charolais herd along with arable crops and cattle and sheep wintering.
With the more recent addition of an arable and vegetable unit in Berwickshire, the farming enterprise now totals 1,150 acres.
Mr Houston brings a broad business experience to his new role. He said: "I passionately believe in the importance of good quality independent businesses, particularly in rural regions.
"The H&H Group has a very important role to play in the agricultural community and I believe very much in the importance of the auction mart system, not just because of the role it plays in terms of setting transparent prices, but I believe it plays an important social role for the farming and rural communities in general."