02/06/05
Geoff Taylor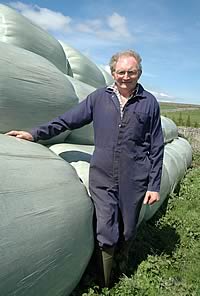 Wrapping big bale grass silage in green film this season will help to reduce losses and achieve a higher quality forage over bales wrapped in black film North livestock farmers are discovering.

Those were the conclusions reached by researchers carrying out trials using different colour wrap at ADAS Pwllperian Research Centre, near Aberystwyth.

Grass silage bales wrapped in Volac Topwrap Eco-green film achieved a more stable and consistent fermentation compared with those wrapped in black film which were exposed to greater temperature fluctuations, according to ADAS Pwllperian's manager, Owen Davies.

This resulted in significantly higher lactic acid levels in the green wrapped bales, an indicator of improved silage uptake and subsequent animal performance.

Interest in green wrap has been gaining momentum in Cumbria this season as more livestock farmers are realising the benefits of green wrapped bales over black bales. Among them is Geoff Taylor who says grass silage wrapped in green film has come out tops.

"Even 10 month old green wrapped bales are remaining free of waste; they are showing no signs of mould around the edges, or the scorching effects that we used to find on black wrapped bales," he says.

Geoff, his wife Linda and sons, Craig and Richard, manage Swathburn, Great Asby, near Appleby, an SDA unit carrying a 100 cow Holstein herd and 850 Swaledale ewes, where producing quality forage is among their top priorities. "We are focused on rearing quality stock, so we believe in making the best possible silage," he explains.

"We first saw Volac's Topwrap Eco-Green at Eden Farm Supplies. Some people thought it was a sales gimmick, however, after we heard how green wrap could improve bale quality, we thought we would give it a try.

"We were told that green film manufactured from high C8 carbon resin absorbed less ultraviolet light than black film, so the bale stayed cooler and so silage losses were reduced," says Geoff. "In fact, we found that the heat differential between the surface of the black and the green wrapped bales is quite marked, even in winter."

Last year, the Taylors used the green wrap on over 600 bales made specifically for feeding out to ewes pre- and post-lambing from fogs cut in late July. "This silage has to be palatable and we go for very high dry matter.

"Last year we made some of our best ever forage. Samples taken in April from the green wrapped forage analysed at 68.3pc DM, 11.3 MJ/kg ME, 70.4 'D' Value and 14.6pc CP," he says, adding: "We were so pleased with the way that green wrapped bales have kept that we've decided to use Volac Eco-green film this season on both first and second cut, amounting to 2,000 bales in total."

During trials, grass silage from Pwllperian's 1,300ha LFA unit was ensiled at 27.2pc DM following a 48 hour wilt. Immediately after baling, the bales were carted from the field to the concrete storage pad, individually wrapped with six layers of either black or green wrap and stacked three layers high.

Temperature changes were recorded hourly throughout the storage period in two positions, directly under the wrap and at 10cm depth. The bales were opened 63 to 65 days later and assessed. The green wrapped bales had a lactic acid to acetic acid ratio of 14:1, compared with 8:1 for black wrapped bales.

"During sunny weather, the surface of the bales wrapped in black film reached temperatures between 5oC and 8oC higher than those wrapped in green film," said Mr Davies.

"We found, much to our surprise, that during periods of night frost the green wrap insulated the bales from heat loss - their surface temperature measured 2oC to 4oC higher than those wrapped in black plastic.

Mr Davies added: "The big bales wrapped in green film had a significantly higher ratio of lactic to acetic acid, a trend which we believe is due to the higher temperatures causing increased permeability of the black wrap enabling oxygen to pass into the bale, leading to a more variable fermentation in which some of the lactic acid is converted to undesirable acetic acid. Higher levels of lactic acid improve palatability and subsequently intakes."

"This agrees with trial work carried out at CEDAR, commissioned by Dow, where dry matter intake was higher in silage wrapped in green film compared with standard black film," said Volac International's David Neville.

"It also reaffirms earlier research findings at the Swedish University of Agricultural Sciences which indicated that losses can be reduced and a higher quality forage achieved by simply changing the colour and quality of the film used.

The Swedish studies concluded that an average 10oC differential between green and black wrapped bales recorded at a 10cm bale depth was simply due to the fact that green film manufactured from high C8 carbon resin absorbs less ultraviolet light than black.

"Further research work at CEDAR found that no spoilage occurred in bales wrapped with green film, irrespective of the number of layers, compared with 9pc spoilage suffered by bales wrapped with the standard four layers of black plastic. With the cost of that 9pc lost forage estimated at £1 per bale, green wrapped bales will more than offset this year's increases in film costs, particularly as Volac does not charge a premium for green film," he adds.